Summerhill Pyramid Winery, Canada's acclaimed organic and biodynamic winery, started its Ice wine harvest at their Kelowna vineyard November 20. Following an already excellent growing season and table wine harvest, the ideal weather situation occurred that allowed the team to harvest Riesling, Chardonnay, Pinot Noir and Zweigelt from the winery's estate vineyard.
Toast to Okanagan Life's 25 years in publishing with Summerhilll Pyramid Winery at our 25th Anniversary Gala Nov 22. Okanagan Life Cover Party
"To make superb Ice wine, the first thing you need is superb grapes," says Summerhill CEO Ezra Cipes. "The Okanagan Valley is singularly blessed because not only have we had a growing season that produced perfect grapes, but we had the temperatures that froze our grapes on the vine to produce this delicious nectar. It's perfection in a glass."
In the previous vintage, Summerhill picked grapes for the 2012 vintage Ice wine on January 12, 2013.
"After a challenging growing season that saw heavy rain in June, followed by damaging hail in some parts of the Valley, the weather ultimately delivered a long, warm Autumn that produced wonderful grapes," says Vineyard manager Willem Semmelink. "We are pleased that the arctic express has arrived so early, allowing us to capture this amazing fruit so early in the season and avoid damage to nature's gift."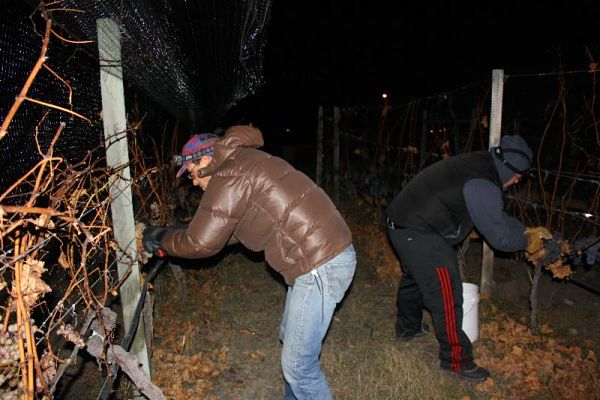 So what exactly is Ice wine?
Ice wine is a style of sweet dessert wine produced from grapes that have frozen naturally on the vine to a level of at least -8 degrees Celsius. Grapes left on the vine late in the season begin to lose their stored water content and start to shrivel. The sugars within the core of the grape do not freeze, which produces a concentrated grape must at time of pressing, resulting in a small yield of sweet and concentrated juice. Ice wine usually offers mouth-coating balanced with high acidity and moderate alcohol.
Ice wines are generally more expensive than table wines for several reasons. Labour costs are higher than normal as a large group of grape pickers must be assembled with sometimes little notice, who are able to pick the entire crop within a few hours before the grapes begin to thaw, often in the middle of the night. The potential for damage to grapes left on the vine also increases due to weather, predators, rot and disease. Conditions in the cellar are also more challenging as the grapes must be pressed while still frozen and special equipment may be used. Fermentation also takes months instead of weeks and unique varieties of yeasts must be used in the process.
Since many of the world's wine growing regions will not experience such extreme temperatures, Canada and Germany produce most of the world's Ice wine, usually sold in 375 or 200ml bottles.
In 2012, Summerhill Pyramid Winery was voted Best Place to Get Married by Okanagan Life Magazine readers in the Best of the Okanagan awards. Winners of the 2013 Best of the Okanagan will be announced in the November/December issue of Okanagan Life coming out next week.