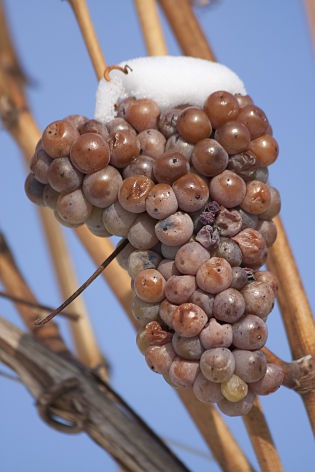 Winemakers and viticulturalists in BC are collectively rejoicing with the arrival of the annual Ice wine harvest. With sub-zero temperatures in the Okanagan this week, the harvest for BC's "liquid gold" started on Wednesday, November 20 and continued into the early morning hours on November 21.
This year, 29 wineries expressed interest in producing Ice wine for a potential harvest of 1,000 tons, which would be the most ever on record. 2013 marks the 3rd earliest Ice wine harvest on record, second to 2003 (November 5) and 2011 (November 19).
The first 2013 Ice wine grapes were brought in by Little Straw Vineyards in West Kelowna on Wednesday, November 20 just before 7 AM with temperatures at -10°C (14°F). After a break during the day, they resumed picking at 10 PM when temperatures plunged again to -9°C (15.8°F) and they were able to complete their harvest of Lemberger and Auxerrois. Owner/Winemaker Pete Slamka reports that the overall quality is very good with very sweet, honeyed characters. Volcanic Hills Estate Winery in West Kelowna also completed their harvest on Wednesday, November 20 starting at 7:30 PM with the temperatures at -9°C (15.8°F). Proprietor Bobby Gidda notes that they brought in 3.7 tons of Riesling first, followed by Zweigelt and Chardonnay.
"To make superb Ice wine, the first thing you need is superb grapes," says Ezra Cipes, CEO of Summerhill Pyramid Winery in Kelowna. "The Okanagan Valley is singularly blessed because not only have we had a growing season that produced perfect grapes, but we had the temperatures that froze our grapes on the vine to produce this delicious nectar. It's perfection in a glass."
Summerhill started their Ice wine harvest on Wednesday, November 20 at 9 pm with temperatures ranging from -9°C (15.8°F) to -12°C (10.4°F) in their four vineyards. Their team has harvested a portion of their Riesling, Chardonnay, Pinot Noir and Zweigelt, and the harvest will continue this evening at their Kelowna and Oliver vineyards.
Jackson-Triggs Okanagan Estate and Inniskillin Okanagan also harvested overnight in Oliver, starting at 12:45 AM at -10°C (14°F) and reaching lows of -12°C (10.4°F) by 4:45 AM. Each winery brought in 7 tons of Riesling from the Whitetail Vineyard and there is still approximately 10 tons of Vidal to be picked for Inniskillin when the temperatures drop again.
"Picking exceptionally early like this is icing on the cake for what has been a stellar year. A hot dry summer combined with this earlier than normal arctic outflow has given us Ice wine grapes in outstanding condition," says Troy Osborne, Director of Western Viticulture for Constellation Brands Canada. "An added benefit from harvesting Ice wine in November is the nice quantity, as we don't lose nearly as much to wildlife and birds."
As of Thursday morning, 20 wineries have started their Ice wine harvests and an estimated 446 tons have been brought in, with more picking expected to continue tonight.
To keep up-to-date on the harvest, follow #BCHarvest2013 and #Icewine on Twitter. You'll find us @OkanaganLifeMag.