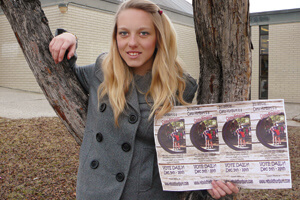 "I feel like we were put on this planet to help one another," says Hannah Paracholski a 14-year-old Vernon Secondary School student. "I think we should go out of our way to do so whether the person is next door or far away." When Hannah sets her mind to something, it gets done with a big heart and impressive results.
Whether it's placing in an Irish dancing competition, winning a downhill slalom ski race or reaching out to help others across the globe, Hannah stays committed, especially when it benefits others.
She showed her willingness to jump in with both feet during her crusade to help Japanese tsunami victims.
After seeing the aftermath of the earthquake and tsunami on the news, Hannah put together a team and organized a fundraising run and fun day that raised over $7,000.
"We were so amazed at the support we received for those in Japan. They are people just like us that needed our help," she says.
Closer to home Hannah volunteered more time in an effort to gather votes in a sadly unsuccessful bid to advance in a competition that could have seen $150,000 awarded to the rebuilding of Camp Hurlburt, an outdoor Vernon youth camp.
Hannah believes if you reach out to others they might do the same for someone else down the road, and that's what's really important. ?~Stacy Pavlov