Bookshelf: Frontier Cowboys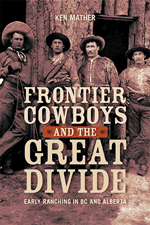 Okanagan author Ken Mather brings you stories of people on the frontier.
About The Author
Okanagan Life captures the essence of life in the Okanagan Valley with informative and entertaining features on issues that matter to people who live or vacation in this great region, plus stories on Okanagan destinations, personalities, wine, food, history, outdoor recreation and more. We're now in our 30th year of publishing. Subscribe
Current Issue
Current Issue
August-September 2018
Digital Edition - Yearly Subscription
Each month, we're giving away
30 free annual subscriptions
 to celebrate our
30th year in publishing
! With a digital subscription, you can enjoy
Okanagan Life
on your tablet.
Upcoming Events