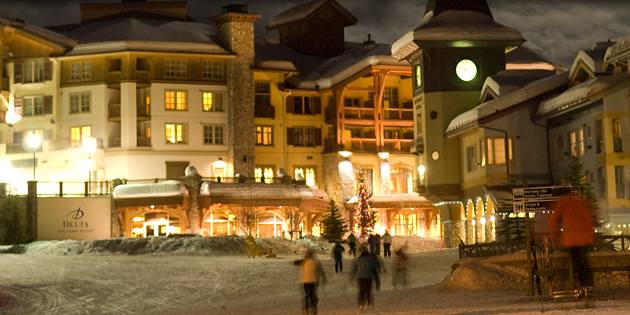 The largest winter gathering of B.C. wineries in the province is underway with over half of 20 events sold out, making for the most successful pre-event ticket sales in the festival's history. Infused with mountain personality, the 17th Annual Sun Peaks Winter Okanagan Wine Festival runs from January 16 to 25, drawing thousands of guests to Canada's Alpine Village.
In addition to strong overall ticket sales, over 600 tickets were snatched up in record time for the flagship event of the festival. The Sun Peaks Progressive Tasting Presented by WestJet sold out more than two weeks prior the kick-off of the festival, earlier than ever before. Two new events, Vertical Goes Vino and Explorer Series, were among some the first events to sell out, indicating guests are always hungry for a new wine tasting experience alongside their classic favourites.
"This continues to outgrow the confines of an ordinary wine festival," says Christopher Nicolson, president of Tourism Sun Peaks. "What began as a weekend Icewine event has evolved into a ten day experience, celebrating the inspired combination of the best in B.C. wines and B.C. Interior's famous champagne powder. This year's record ticket sales solidify the festival's reputation as one of the must-do experiences in the province. It's the perfect opportunity for a unique mountain getaway combined with wine tasting which is typically considered an urban activity."
"We're thrilled to see another successful start to the Winter Wine Festival," said Blair Baldwin, General Manager of Okanagan Wine Festivals Society. "Indicative of festival's popularity, tickets are 90 per cent sold out. As we kick off our 17th year, our visitors can look forward to a fantastic time on the slopes of Canada's second largest ski area followed by an intimate après ski environment with the tastemakers behind our award winning B.C. wine and food."
Tickets are still available for nine events, including four signature events – The Big Varietal Showdown, Taste of Sun Peaks, Icewines and Nothing Less and Bella Italia Brunch Buffet. Remaining tickets are expected to sell quickly once the festival begins. A complete list of festival events can be found on www.SunPeaksResort.com/Wine-Festival and tickets can be purchased through Tourism Sun Peaks' Central Reservations at 1-877-212-7107.
About Sun Peaks
Sun Peaks is a four season resort community located in the interior of British Columbia. With the addition of two new alpine ski zones for the 2014-15 winter season, it now ranks as the second largest ski area in Canada. Most recently declared the #2 Ski Destination in Canada by Canadian Living Magazine's Reader Poll and Best Overall Resort #2 by the Editors' Choice Awards in the SBC Resort Guide in 2013, Sun Peaks is continually rated one of the top ski experiences in North America. The award winning resort design features three mountains surrounding an intimate ski-in, ski-out village filled with shops, restaurants and hotels. Sun Peaks can be accessed by two airport gateways - Kamloops (45 minutes) and Kelowna (2.5 hours) and also by car; only a four hour drive separates Sun Peaks and Vancouver.