Bring together a British wine critic, an American wine writer and a entourage Canadian wine judges and you have the ultimate panel for Judgment of BC. An the bench: six BC Pinot Noir and six BC Riesling versus twelve international vintages.
"This is not about win or lose, good or better; this is about putting BC wines up against really stiff competition and what great results," says DJ Kearney curator of the event. "The global wines were all chosen for a reason to challenge, to push, and to help us realize that we are in great company. This should be a tough competitive set, and it was. It had to be. And BC did well. What this shows is that we can hold our own among acknowledged classics."

CedarCreek Platinum Block 3 Riesling 2012 from the Okanagan Valley placed second closely behind Max Ferd Richter Graacher Himmelreich Riesling Kabinett 2013 from the Mosel Valley, Germany which came first in the Riesling flight. In third was Wild Goose Stoney Slope Riesling 2013.
Acclaimed British wine critic Dr. Jamie Goode, and American wine writer Elaine Chukar-Brown, a contributing writer for Wine & Spirits, scored the wines along with 29 expert Canadian wine judges including Anthony Gismondi, John Szabo, Rhys Pender, Barbara Philip, David Lawrason, Steve Thurlow, Brad Royale, Craig Pinhey, Treve Ring, Sid Cross and Kurtis Kolt, to name a few.
"What was really interesting when I tasted through those 12 wines blind, I couldn't pick out the BC wines which tells me they belong in their peer group," said Goode. "I think BC Riesling really put in a strong performance. The key aspect was the purity and beautifully integrated acidity in these wines. If I saw the lineup before tasting, I wouldn't have expected to see the BC wines do so well. I was pleasantly surprised with the results."
Bouchard Père Premier Cru Beaune Clos de la Mousse Monopole 2012 from Burgundy, France came out on top for the flight of Pinot Noir, while the BC vintages placed fourth, fifth, sixth, seventh and eighth.
"I was pleased we were doing a tasting with Pinot Noir and Riesling, they are two varieties that BC is doing very well and they should be celebrated," said Cross. "I thought the results were very pleasing to see BC Pinot Noir right in the midst of the pack. The top three Pinot Noirs are classic wines from the top recognized regions in the world for Pinot Noir, a Premium Cru from Burgundy, Oregon and Central Otago. To come in right behind those wines shows that BC is right there for Pinot Noir. Very impressive."
Hosted by the BC Wine Institute, this the second annual Judgement of BC was held in Summerland on June 21.
Riesling scoring
1. Max Ferd. Richter Graacher Himmelreich Riesling Kabinett 2013 | Mosel Valley, Germany | 9% | $42.99
2. CedarCreek Platinum Block 3 Riesling 2014 | Okanagan Valley, BC | 12.2% | $22.99
3. Wild Goose Stoney Slope Riesling 2013 | Okanagan Falls, BC | 13.3% | $20
4. Chateau Ste. Michelle & Dr. Loosen Eroica Riesling 2013 | Columbia Valley AVA, Washington State | 12% | $29.49
5. Leeuwin Art Series Riesling 2012 | Margaret River, Australia | 12% | $42.49
6. Synchromesh Storm Haven Vineyard Riesling 2015 | Okanagan Falls, BC | 8.9% | $35
7. Culmina Decora Riesling 2015 | Okanagan Valley, BC | 13.5% | $26.99
8. Pewsey Vale Eden Valley Riesling 2014 | South Australia | 12% | $19.99
9. Robert Weil Kiedricher Riesling Trocken 2012 | Rheingau, Germany | 11.5% | $47.99
10. Tantalus Old Vines Riesling 2013 | Okanagan Valley, BC | 13.1% | $30.35
11. Orofino Hendsbee Vineyard Riesling 2013 | Similkameen Valley, BC | 12% | $22
12. Trimbach Riesling 2012 | Alsace, France | 12.5% | $35.99
Pinot Noir scoring
1. Bouchard Père Premier Cru Beaune Clos de la Mousse Monopole 2012 | Burgundy, France | 13% | $66.99
2. Bachelder Oregon Pinot Noir 2012 | Willamette Valley AVA Oregon, USA | 14% | $49.99
3. Felton Road Bannockburn Pinot Noir 2014 | Central Otago, New Zealand | 14% | $67.99
4. Haywire Canyonview Pinot Noir 2014 | Summerland, Okanagan Valley, BC | 13% | $39.90
5. Meyer Family Reimer Vineyard Pinot Noir 2012 | Okanagan Valley, BC | 13.5%| $40
6. Quails' Gate Richard's Block Pinot Noir 2013 | Okanagan Valley, BC | 14% | $55.17
7. Blue Mountain Vineyard Reserve Pinot Noir 2013 | Okanagan Falls, BC | 12.5% | $39.90
8. Thibault Liger-Belair Bourgogne Les Grands Chaillots 2012 | Burgundy, France | 13% | $65.99
8. JoieFarm Reserve En Famille Pinot Noir 2012 | Naramata, Okanagan Valley, BC | 13.6% | $29.90
10. BK Wines Skin n'Bones Pinot Noir 2013 | Lenswood, Adelaide Hills, South Australia | 12.5% | $39.99
11. Moraine Pinot Noir 2013 | Naramata, Okanagan Valley, BC | 13.1% | $28.90
12. Meomi Pinot Noir 2014 | California, USA | 13.7% | $25.99
---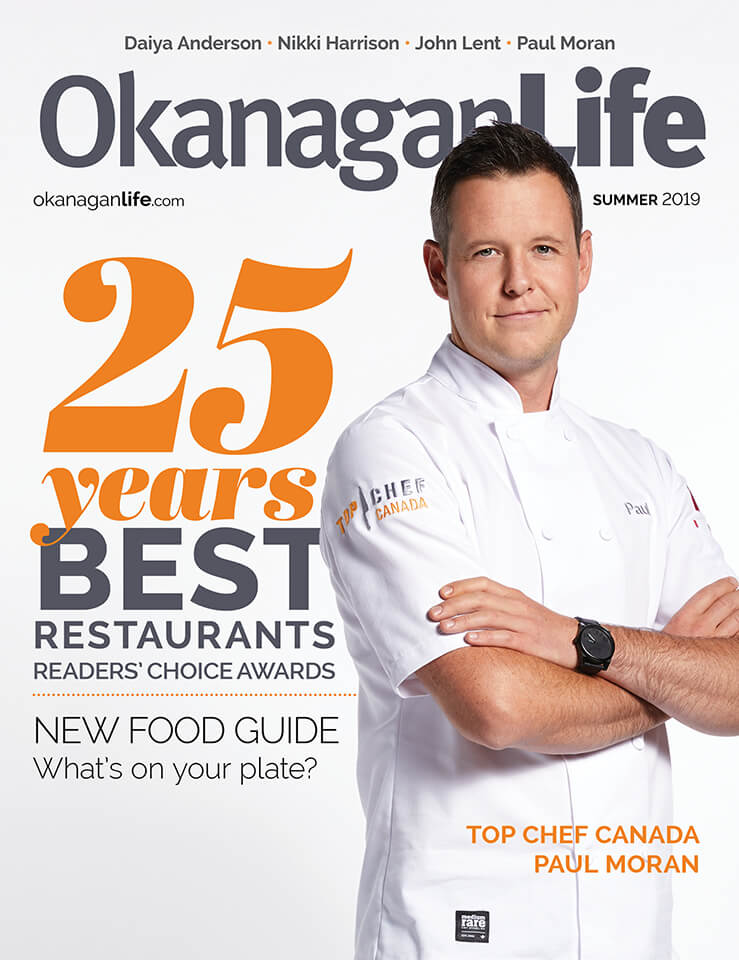 The readers of Okanagan Life are celebrating our 25th year of presenting the annual Best Restaurants Awards. On the cover, Canada's Top Chef Paul Moran. Writer Shannon Linden has delved…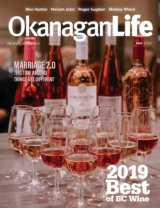 The wine issue of Okanagan Life magazine is here. See the 2019 winners of the Best of BC Wine Awards. Writer Myrna Stark-Leader has delved into Marriage 2.0, how Okanagan couples are…