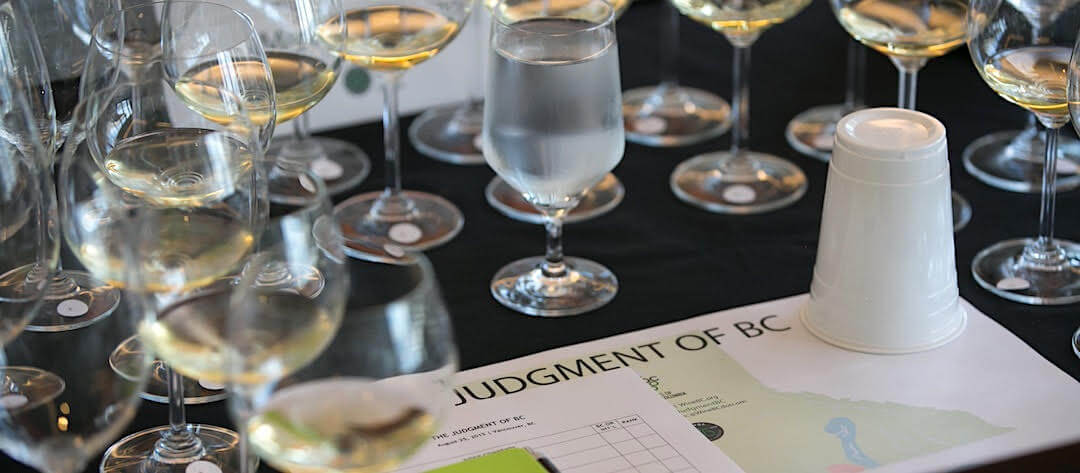 The Wines of British Columbia were put to the ultimate test at the fourth annual Judgment of BC on October 24, pitting 12 BC wines against 12 acknowledged global benchmarks. BC's Poplar Grove Winery The Legacy 2014 BC VQA Okanagan Valley ranked first among the flight of Bordeaux-style red blends, with BC's Laughing Stock Vineyards Portfolio BC VQA Okanagan 2015 close behind in second place. Roederer Estate Brut NV from Anderson Valley, California came out on top for the flight of traditional method sparkling wines with BC placing fourth, fifth and sixth.
Hosted by the BC Wine Institute, and curated by Vancouver based wine expert DJ Kearney, the Judgment of BC took place in Kelowna in the heart of wine country, during which 37 international and national wine judges blind tasted and ranked the 24 wines. 12 were traditional method sparkling wines and 12 were Bordeaux-style red blends, six of each were from BC and six were international benchmarks.
The BC wines selected for the Judgment were hand chosen through a blind tasting by a Selection Committee of Barb Philip MW, Rhys Pender MW, Dr. Janet Dorozynski, Kurtis Kolt, Michaela Morris and Jason Yamasaki, led by DJ Kearney. Ninety-nine wines were tasted prior to selecting the final 12 BC representatives.
"It has been the most fascinating tasting," says International judge Christine Austin, British wine writer for the Yorkshire Post. "BC Wine can stand upon the world stage with their own character, flavours, personality and hold their head up high against some of the best wines in the world."
Tasting both traditional method sparkling and red blends shows BC's diversity. "Many regions say they can produce a variety of styles. British Columbia is unique due to its climate and geology in actually being able to produce many grapes and styles at high quality," says Master Sommelier James Tidwell. "I look forward to the day when these wines are more recognized in the international market."
"The wines are exciting and fresh with a purity of fruit that also offers a sense of place. It is amazing to see the calibre of wines coming from this region and the rest of the world should be paying attention," says Katelyn Peil Wine Director for the Heavy Restaurant Group in Seattle, USA.
Red Blend Results
Poplar Grove Winery The Legacy 2014 Okanagan Valley, BC | 14.0% | $52
Laughing Stock Vineyards Portfolio 2015 Okanagan Valley, BC | 14.9% | $50
Blackbird Arise 2015 Napa Valley, California | 14.5% | $86
Dominus Estate Napanook Napa Valley Red 2014 California | 14.5% | $125.99
Intersection Estate Winery Axiom 2014 Okanagan Valley, BC | 13.9% | $39
Chateau Poujeaux 2015 Moulis-en-Médoc, France | 14% | $65
CedarCreek Estate Winery The Last Word 2014 Okanagan Valley, BC | 14.6% | $84.99
Osoyoos Larose Estate Winery Le Grand Vin 2015 Okanagan Valley, BC | 14.0% | $45
DeLille Cellars D2 2013 Columbia Valley, Washington State | 14.3% | $85
Clos du Soleil Winery Signature 2014 Similkameen Valley, BC | 14.8% | $45
Chateau de La Dauphine 2015 Fronsac, France | 14.5% | $50
Chateau d'Armailhac Grand Cru Classé 5th Growth Pauillac, France 2015 | 13.5% | $90
Sparkling Wine Results
Roederer Estate Anderson Valley Brut NV California | 12% | $46.99
Champagne Veuve Clicquot Brut NV France | 12% | $69.99
Champagne Pierre Paillard Les Parcelles Bouzy Grand Cru Extra Brut XIII France |12.5% | $67.99
Blue Mountain Vineyard & Cellars Blanc de Blancs R.D. 2010 Okanagan Valley, BC | 12.5% | $39.90
Noble Ridge Vineyard & Winery The One 2012 Okanagan Valley | 12.0% | $47.90
Sperling Vineyards Brut Reserve 2011 Okanagan Valley, BC | 11.5% | $50
Graham Beck Brut Zero 2011 South Africa | 12% | $29.99
Tantalus Vineyards Blanc de Noir 2015 Okanagan Valley, BC | 12.0% | $30
Segura Viudas Heredad Brut Reserva Spain | 12% | $33.99
The View Winery Pearls Traditional Brut 2016 Okanagan Valley, BC | 11.8% | $30
Fitzpatrick Family Vineyards Fitz Brut 2015 Okanagan Valley, BC | 11.6% | $32.99
Mumm Napa Brut Prestige NV California | 13% | $25.99