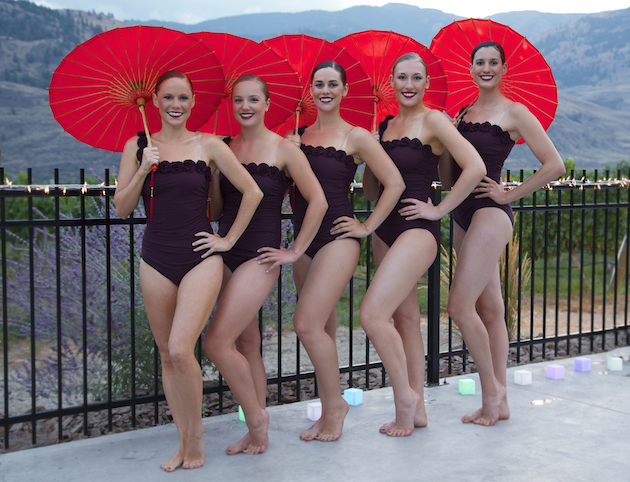 On a warm South Okanagan summer's night, Black Hills Estate Winery, a modern oasis in the desert, converted into a Miami-style vineyard ultra lounge.
The winery was host to an incredible water ballet performed by the glamorous swimming entertainment company, Aqualillies. They displayed skill and grace as they charmed the audience with sweet sexiness and played out the classic art of synchronized swim and dance.
"The Aqualillies have performed in videos for Justin Bieber and Justin Timberlake as well as at leading edge entertainment and corporate events around the world," says Glenn Fawcett, President of Black Hills Estate Winery. "Now for the first time ever, they're performing at a winery, for Black Hills' first-ever Midsummer Night's dream party."
Fetching red padded patio chairs caught one's eye upon entering the outer deck. Tables and chairs were placed on the lawns close to where the grapes, in their splendor, hung from the vines.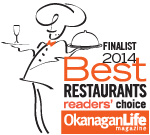 Friendly servers brought around homemade style gourmet pizza from a portable kitchen beside the winery that churned out a buffet of rich tasting salads and other creations by guest chef, Darren Patterson from Bogner's Restaurant in Penticton (a Best Restaurant award winner). A large open rotisserie, on the lawn, turning whole chickens and a large pork roast over charcoal, was a show of its own.
The winery is of modern architecture, organized and stylish, displaying the variety of wines it produces, several with unique labeling. At the tables, guests were served choices of Syrah, 'Cellar Hand Punch Down Red' and 'Cellar Hand Free Run White' to accompany their meal.
The pool at the back of the winery lay between a wine bar at each end, each covered by a Cabana. There, Syrah was uncorked, along with the popular Nota Bene, an outstanding Bordeaux style blend.
Volunteer models, in a fashion show sponsored by The Bum Wrap in Penticton, sauntered around the pool in an unusually slow, relaxed manner, as they displayed beachwear, allowing their audience to take in their beauty and style.
As the sun began to set, the night-lights created a romantic glow, and silhouettes danced around the pool, creating a classic Okanagan evening: exceptional setting, extraordinary evening.
The Aqualillies have performed for clients such as Glee, ABC's Splash, Disney World, The Kardashians, TED conferences and more. There are teams in Los Angeles, New York, Miami, Las Vegas, San Francisco, Toronto, Calgary and Vancouver.
Photos by Bonnie Donovan.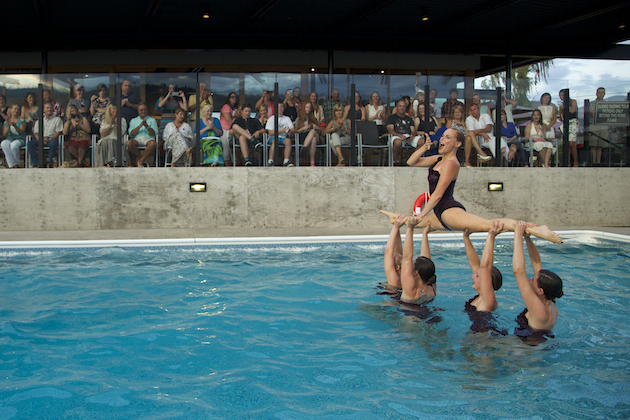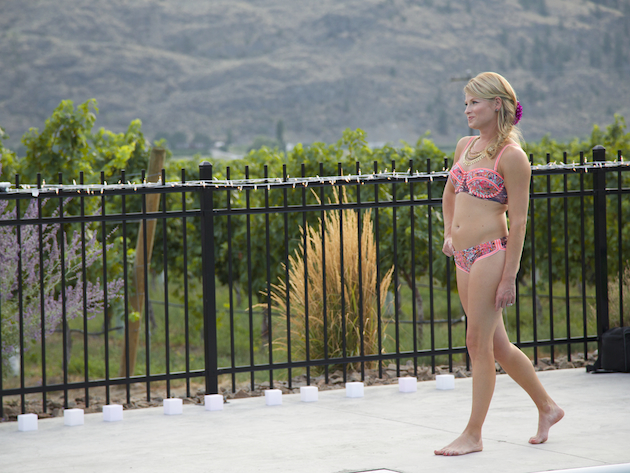 ---
[downloads category="current-issue" columns="1″ full_content="yes"]