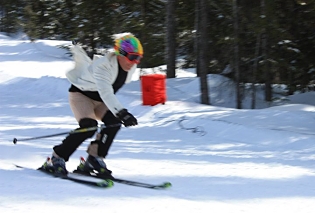 The World's only annual ski challenge weekend for the wine industry, the Cellar-Tek Winemakers Cup is set for Saturday March 15, 2014 at Big White Ski Resort. 
After a six-year run of the Winemakers Cup being hosted at Mt. Baldy, the fun-loving folks at Big White Ski Resort have opened their arms and agreed to host the event in 2014.
"We are thrilled to be hosting the Wine Industry of B.C. at Big White for this great weekend of skiing, après-ski and industry camaraderie," says Michael J. Ballingall, Senior VP. "The Wine Industry in BC is so important to the mosaic of the provinces ski tourism experience, and it is great to be able to show our thanks by being host for this seminal weekend."
Close to 100 wine lovers, including winemakers, cellar hands and vineyard managers, tasting room staff, restaurateurs, sommeliers, hoteliers and many other industry people will race head-to-head on the ski slopes and then drink wine, après-ski style while reliving the hilarious antics of the day. They will be participating in several events as part of the weekend in the heart of the Okanagan, one of the world's most scenic and beautiful wine regions.
The fun dual-slalom ski race will run on Big White's Ski Cross course with prizes being given out to Top Skier (Male & Female), Top Snowboarder (Male & Female), Top Telemarker, Best wipe-out and Worst times (Male & Female) as well as prizes for any kids that enter. Big White was voted Best Family Resort by the readers of Okanagan Life magazine.  
"We're lucky in the Okanagan. We're not only blessed with unique winemaking terroir, but we are the only region to have a ski area such as Big White in very close proximity to the vineyards," says promoter Randy Jones, President of Cellar Tek. "Making wine is hard work, and it's good for all of us to get away from the grind and get together for some friendly ski competition, marked mostly by laughs.
Jones says it's also a chance to for the industry to connect and share ideas. "Some of the most interesting conversations happen on a chairlift, up there in the fresh mountain air. The Winemakers Cup enables an exchange of ideas and information that outside of the day-to-day work environment in the wineries and vineyards."
Previous winners of the Winemakers Cup include:
2008 Bill Eggert, Winemaker, Fairview Cellars
2009 Stephen Wyse, Winemaker, Burrowing Owl
2010 Herb Alex, Cellarhand, Jackson-Triggs
2011 Bill Eggert, Winemaker, Fairview Cellars
2012 Stephen Wyse, Winemaker, Young & Wyse
2013 Charlie Baessler, Winemaker, Corcelettes Winery