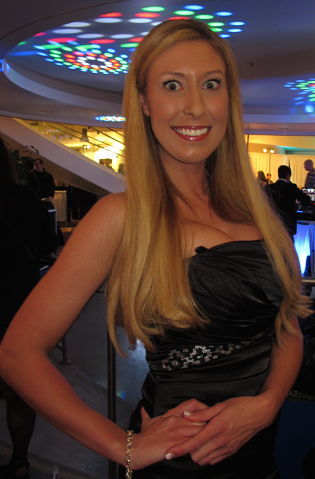 In the first ever MasterChef Canada, home cook and West Kelowna realtor Kaila Klassen captured third place in the national TV competition. The final round is set for next Monday on CTV.
Hailing from Penticton, B.C., Kaila is a real estate agent from West Kelowna who began her journey alongside thousands of Canadian culinary hopefuls in pursuit of the coveted white apron. Her passion for fine dining began at 17 when she moved to Vancouver. She worked in a number of restaurants, saving her tips to take herself out for fabulous dinners – as many as her pocketbook would allow.
"One day I went home and I tried to recreate a dish I had when I went out," says Kaila. "I was actually pretty good at it and I just fell in love."
Her final night (and 14th episode) in the MasterChef Kitchen showed her growing culinary talent. Faced with an Italian-inspired mystery box, she produced a stuffed veal loin that gained the praise of guest judge Joe Bastianich, MasterChef USA, who pronounced her dish the winner. Despite her best efforts, fellow home cook Tammara Behl of Calgary, fell to the bottom during the challenge and, in a surprise twist, was eliminated.
The final three remaining chefs faced a shellfish elimination test. Kaila's colourful pate of seared scallops with confit potatoes over pea puree, served with a side of crispy parsnip chips was tasty but fell just short of the judge's expectations. Her two final competitors, Eric Chong, a chemical engineer from Oakville, Ont., created a delicate crab green curry and Marida Mohammed, a stay-at-home mom from Toronto, infused her razor clams with fresh citrus notes, flavours stemming from her Trinidad background.
Throughout the season an array of unusual ingredients made it to the kitchen. In Episode 7, the young 24-year old West Kelowna home cook was not the least bit intimidated when faced with serving up a delectable plate of brains.
In Episode 4, the top 14 home cooks arrived at the Air Canada Centre to discover that their first team challenge would be to prepare lunch for current Toronto Maple Leaf players including James Van Riemsdyk and past Leafs Wendel Clark and Darryl Sittler.
Tensions ran high as both teams wanted to avoid the dreaded pressure test. Kaila's Team White lost the challenge, leaving them to make pasta uova di ravioli – a single ravioli with egg yolk and spinach ricotta filling in butter sage sauce. The moment would become Kaila turning point in the MasterChef kitchen.
"My highest high on the show was when I perfected the ravioli," she says when Okanagan Life caught up with her at Kelowna's Devour culinary event held last month. "I felt like I was really the underdog and that people underestimated me. I think that dish really provided to people that I can cook and I'm here for a reason. It was the beginning of my journey."
At Toronto's historic Distillery District, the chefs had to prepare canapés for some of the toughest food and art critics in the country. Kaila's inspiration for a blue chip provided an artistic colour and culinary crunch to the canapé, but it was not enough for her team to come out on top. A masterful chocolate cheesecake saved her in yet another elimination test.
To make it to the top 10, Kaila faced a food truck challenge, one Mexican and one Italian. Running the trucks and feeding a hungry lunchtime crowd, each team created a dish to be sold at $5. At the end of the challenge, the rival Mexican truck had the most cash in their till with all proceeds to charity. However, a successful Baked Alaska dessert, a baked meringue covered ice cream dish, had Kaila reaching for her blow torch to brown the top, and had her reaching the top 10.
With an average audience of 1.7 million viewer, MasterChef Canada is officially the #1 Canadian program of the broadcast season.
"Wow, it is just so surreal to be in front of 30-some cameras and it's so different than cooking for your boyfriend with a glass of wine in your kitchen," says Kaila.
Judged by celebrated Canadian chefs and restaurateurs Michael Bonacini, Alvin Leung, and Claudio Aprile, Kaila was one of the country's top 16 home cooks who rose above the rest of the competition in an intense series of challenges and elimination tests to vie for a $100,000 cash prize and the first ever Masterchef Canada title.
"I cannot say enough about how much I learned; it was an amazing experience," she says. "I learned so much not only about cooking but about myself and also learned it important to take time to do what I love, and what I love is cooking."