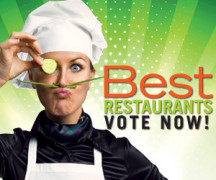 2014 Best Restaurant voting is now open. Vote open for the Best Brewery in the Okanagan.
The Craft Brewers
Travelling around BC, the beer lover will discover craft brew in every corner of the province.
In Thompson Okanagan wine country you'll discover plenty of barley amid the grapes, including Tree Brewing in Kelowna, Cannery Brewing Company in Penticton and Crannóg Ales in Sorrento, the first certified all-organic brewer in Canada. It's famous for bold, Irish-style ales such as the Back Hand of God Stout, a perfect accompaniment for a lazy day of houseboating on nearby Shuswap Lake.
The Okanagan is also home to a growing number of brewpubs that not only make their own beer, but serve it alongside gourmet pub fare. Best Restaurant finalists have included Freddy's Brew Pub and the Barley Mill Brew Pub.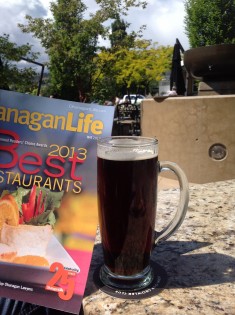 In 2013, Okanagan readers picked the Best Local Beer:
1516: Okanagan Springs - Best Local Beer 1
North Okanagan
Thirsty Beaver: TreeBrewery - Best Local Beer 1
Central Okanagan
Naramata Nut Brown Ale: Cannery Brewing Best Local Beer 1
South Okanagan
For 2014, the category has been expanded from best local beer to Best Brewery. 
All Hail the Ale Events
Beer is, of course, more fun when it's enjoyed with others, and BC has plenty of great beer-centric events year round.
Come spring, locals in wine country pause from their worship of the grape to raise a glass to the grain at the Okanagan Fest-of-Ale in Penticton — an unbeatable opportunity to sample craft brews from all over the Pacific Northwest. Also in the spring is Vancouver Craft Beer Week, a nine-day festival celebrating all things craft beer and culture. This year, Vancouver Craft Beer Week will kick off with their opening night extravaganza May 30, bookending the event's festivities with the toast-worthy VCBW Beer Festival.
October promises to satisfy, too, thanks to its designation as B.C. Craft Beer Month. Among the key events is the B.C. Beer Awards & Festival, which recognizes the best brews in the province at a signature tasting event.
But no matter where you are in British Columbia, there's a brewer, a pub, a festival or restaurant nearby, where the beer is cold, the taps are many and the barman is waiting to pull a refreshing pint just for you.