Enjoy Vertical & Vintages Wine Festival at Apex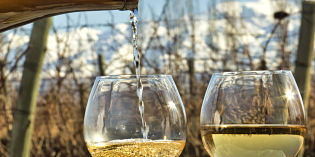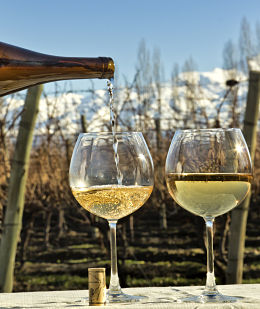 The Naramata Bench Wineries Association is partnering with Apex Mountain Resort for the 2nd Annual Vertical and Vintages Wine Festival Weekend. Skiers and boarders can mark their calendars for the Naramata Bench Wine Tasting event on Saturday, March 8, from 7 to 9 pm.
"Attendees can enjoy famous Okanagan champagne powder during the day and award winning wines through the evening," says James Shalman, General Manager at Apex Mountain Resort. "Last year was our first festival; it sold out and the feedback from those that attended was 'that it was one of the best events of the season.' Now with even more Naramata Bench wineries in attendance this year it is going to be bigger and better."
Hosted at the Gunbarrel Restaurantand Bar in the heart of the Apex Village, 17 wineries will be pouring Okanagan wines. In addition, the Gunbarrel Restaurant will be showcasing a selection of delicious dishes to savour with the wines.
The Naramata Bench wineries pouring include:
Bench 1775
D'Angelo Estate Winery
Elephant Island Orchard Wines
Hillside Estate Winery & Bistro
La Frenz Winery
Lake Breeze Vineyards
Lang Vineyards
Laughing Stock Vineyards
Misconduct Wine Co
Monster Vineyards
Moraine Estate Winery
Perseus Winery
Poplar Grove Winery
Serendipity Winery
Therapy Vineyards
Upper Bench Estate Winery
Van Westen Vineyards
After the tastings, festival goers can head to the Gunbarrel Saloon to enjoy the musical talents of Naramata's favourite party band, UnCorked, as they play the night away.
"We are delighted to be the wine partner with for the Apex Mountain Resort and look forward to sharing our very best wines with attendees on what is sure to be another fun winter weekend in the Okanagan," says Tina Baird, Naramata Bench Wineries spokesperson.
"The Vertical and Vintages Wine Festival is the perfect partnership between mountain culture and the charismatic Naramata Bench," says Shalman. "This unique wine region of the Okanagan and the atmosphere of the Apex village is a perfect pairing. The wineries are only a 45 min drive from the resort and the personalities of these wineries and the Apex Village coming together is going to make another a very special night this year."
Adding more value to the event ticket is a 25 per cent discount off a one-day adult lift ticket on March 8, 9 or 10.
Vertical and Vintages tickets for Saturday March 8 are on sale now and available for $38 + GST, per person. To purchase contact: Kerissa at 1-877-777-2739 or via email: kerissa@apexresort.com.