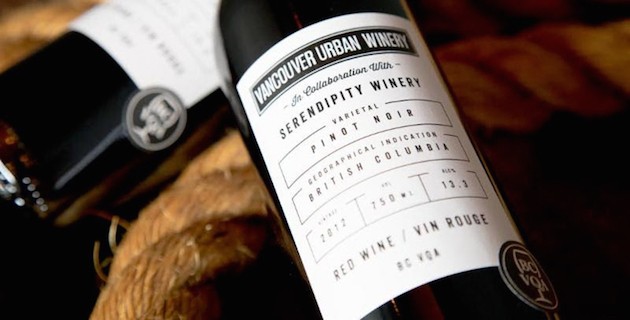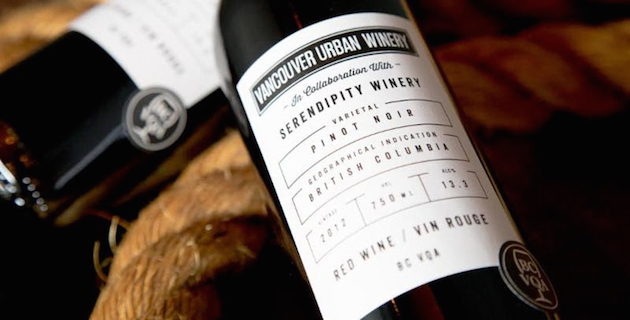 Vancouver Urban Winery has released an all-new small lot 2012 Pinot Noir, in partnership with Naramata's acclaimed Serendipity Winery, as part of its Colab Series of premium BC VQA wines.

"The Colab Series is our way of honing in on some of our favourite people and places in BC wine — each wine is an opportunity to highlight something special about BC wine through unique, small lot wines," says sommelier David Stansfield of Vancouver Urban Winery. " The Colab Pinot Noir with Serendipity is a perfect example. It's combination of freshness and power shows off exactly why Pinot is so at home on the Naramata Bench."
The 2012 Colab Series Pinot Noir greets the eye with a warm, ruby hue of medium intensity, says  Stansfield. He describes the wine as having bright notes of violets giving way to aromas of black cherry, clove, and cedar with a palate that is fresh, pure and structured with a concentrated, juicy finish. Only 50 cases of this wine were made.
"We are pleased to continue the partnership  with the team at Vancouver Urban Winery which recognizes that some grapes grow better than others in different regions across B.C.," says Judy Kingston, owner of  Serendipity Winery. "It's a great education for wine lovers and foodies alike. We hope their customers enjoy this fruit-forward and very approachable Pinot Noir. Perfect for the summer."
This wine is available, while it lasts, exclusively on-tap at Belgard Kitchen or in bottle from Vancouver Urban Winery's retail shop ($19.00/btl), both located in The Settlement Building.
Serendipity Winery is located in the Okanagan Valley, BC, in the heart of the Naramata Bench. From ten acres of vines, winemaker Bradley Cooper crafts a selection of wines, including Sauvignon Blanc, Viognier, Cabernet Franc, Syrah, Merlot, Pinot Noir, and a Rosé, as well as blends Devil's Advocate, Red Handed, Serenata, and White Lie. The wine lineup continually gathers accolades, and in 2013 the winery was named BC Winery of the Year at the New York International Wine Competition.
---
Our June issue features the Okanagan Valley and Thompson's Best Restaurants Awards – now including Kamloops restaurants. Thanks to all our readers for helping us present these awards for the […]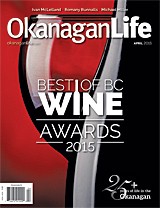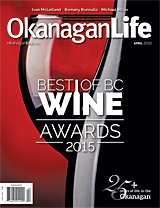 Our April issue presents the Okanagan Life Best of BC Wine awards.