Castoro de Oro's Merlot has been named the centennial wine for the Fairmont Hotel MacDonald in downtown Edmonton. The historic Edmonton landmark will mark its 100th anniversary during a celebration on July 4.
"This is a prestigious honour for our small winery," says Bruno Kelle proprietor and winemaker. "Little did we know when we opened our winery door for a small group tasting last summer that our wine would be showcased on such a large stage. We are thrilled to be part of this historic anniversary."
The Fairmont Hotel Macdonald is Edmonton's landmark, a four-diamond luxury hotel, the setting of the city's finest events, and an iconic fixture of Edmonton's skyline since July 5, 1915. Named after Canada's first Prime Minister, Sir John A. Macdonald and lovingly referred to as 'The Mac,' the hotel was designed in the Château-style that characterized Canada's large railway hotels.
The Hotel Macdonald chose Castoro de Oro's Merlot 2012 for its centennial private label red wine and the Heart of Gold 2013 for its centennial white wine. The white is a dry blend of Pinot Blanc, Siegfried, Vidal and Viognier.
Castoro de Oro Merlot 2012 is an award-winning wine, receiving gold at the 2015 All Canadian Wine Championships and a bronze at Okanagan Life 2015 Best of BC Wine Awards.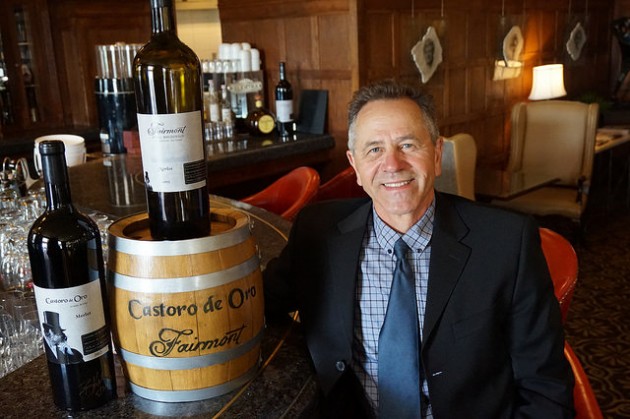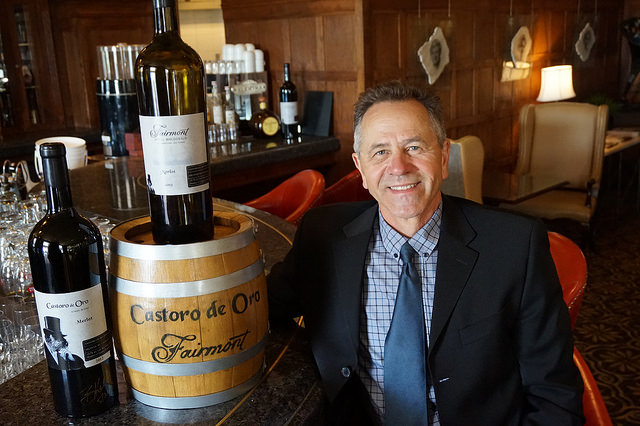 Photo: Castoro de Oro winemaker Bruno Kelle stands by an special edition magnum of Merlot 2012, the centennial wine of the Fairmont Hotel MacDonald.  
Both Castoro de Oro wines are hand-crafted from grapes grown on the vineyard's Golden Mile property at Oliver, labeled the Wine Capital of Canada by Tourism BC.
"We produce small-batches of wine crafted from grapes hand harvested and hand sorted for the best quality," says Kelle. "This fine attention to detail allows us to create wine that  reflect the natural flavours of our amazing terroir."
Okanagan sommelier and wine writer Michael Botner finds the quality found in the small lots from Castoro de Oro rank among the Valley's best, giving the Merlot 2012 a four-star review.
"The captivating nose exhibits violets, fig, cherry, prune, dark chocolate and red meat," says Botner. "The intriguing palate packs richly-concentrated dried fruit, cassis and velvety tannins with a note of bitter almond on the finish."
Along with being selected as The Mac's official wine partner for its centennial year, Castoro de Oro wines have been selected by Fairmont Chateau Lake Louise, Fairmont Vancouver Waterfront and Fairmont Vancouver Pacific Rim.
Castoro de Oro opened its doors in 2006. Proprietors Bruno Kelle and Stella Schmidt purchased the small 3.3-hectare vineyard, originally planted in 1980 making it one of the oldest in the famed Golden Mile area.
Like the Hotel Macdonald, Castoro de Oro name stems back to Canada's turn of the century history, paying homage to both the national emblem of the beaver and the gold mining that spurred the established of the town of Oliver in 1918.
Castoro de Oro is located just south of Road 20 on Highway 97 at Oliver. The wineshop is open daily from 10 am to 5 pm.