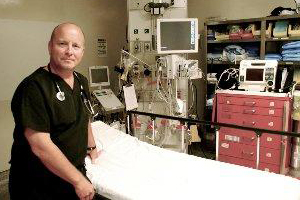 The revolving door swishes open with the arrival of sick or injured people and clicks closed as hundreds of treated patients depart. This is the daily dance of the emergency department and for Dr. Mike Ertel, it's more tango than waltz.
Dr. Mike has donned some different caps during his 16 years at Kelowna General Hospital (KGH): full-time emergency room physician, former chief and medical
director of the ER and, until recently, medical director of emergency services for Interior Health. But like the chaos inherent in his specialty, this doctor thrives on challenge and change. Meet the latest chief of staff for KGH.
Moving into administration was a natural for the man colleagues call the "Kaiser." ("I'm a bit of a control freak," he admits.) Certainly Dr. Mike's obsession with getting things done serve the hospital well, but it's his people skills that earn him the most admiration.
Known for his sense of humour, don't let his smiling face—or slightly short stature—fool you. He's larger than life, fiercely tenacious, awfully persuasive and a hell of a hockey player, too.
A forward in the competitive Men's Premier League, Division One, Dr. Mike is as passionate on the ice as in the ER. His team, the Sparta, won the provincial title last year, though Dr. Mike jokes he's barely holding on at his age. "We load up with young guys and I pass them the puck," he says, grinning.
Coming from a hockey family helps. His younger brother was drafted by the Canucks (he now works as a teacher) while his dad was "hired and fired for every possible position" with the Kitchener Rangers (who won the Memorial Cup during his tenure).
Driven to do it all, Dr. Mike does struggle to find the balance between the family he lives for and the work that calls to him. Married to a fellow physician and father to three girls, he says the women in his life keep him in check while the men he works with motivate him.
"We have such a great ER group and I'm a workaholic," he admits. "I have constant guilt about balancing work and family. But I'm Catholic. I'm okay with guilt."
Dr. Mike says he always wanted to be a doctor, even as a little kid. "That or an NHL hockey player, but then I stopped growing."
Lucky for his profession—and particularly KGH—medicine came first. "I never dread going in and I always leave with a sense of accomplishment," he says.
Ultimately Dr. Mike hopes his latest position will allow him to give back to the place that has given him so much—a career he loves—and a second chance at life.
In an ironic twist of fate, he was saved by the institution that employs him and by the colleagues that inspire him. About a year after attending to a fellow hockey player's heart attack, Dr. Mike suffered his own.
At a tournament in Las Vegas, a competitor complained of chest pain. Dr. Mike assessed him on the bench and sent him to hospital. "He gave a thumbs up on his way out. Sadly, he died in hospital."
A year later, after completing a busy shift in the ER, Dr. Mike went home and had his own heart attack. "I didn't have any chest pain, no shortness of breath, but pain in the right shoulder and stomach that wouldn't go away," he recalls.
Crediting "the little man on his shoulder" for nudging him to pay heed, he headed back to the hospital to get checked out. "I went in the back door because I didn't want to bother anyone. The ER nurse on shift just shook his head and when I looked at the ECG report, I thought, oh boy, I'll be in the cath (catheterization) lab in an hour."
Being in the hospital bed—rather than beside it—renewed his appreciation of his colleagues.
"I was chief of the ER at the time," he explains, "But that had nothing to do with it. We have outstanding physicians and support staff. Patients here receive fast, excellent care. I never feared I would die."
In fact, Dr. Mike says he's never felt better. "So good, sometimes I have to remind myself how precarious it all is. I could be in an urn right now."
He loves to laugh, but this chief of staff is seriously cut out for any challenge.