Emily Dickson of Prince George earned her third medal of the 2015 Canada Winter Games on Wednesday in the biathlon 10km pursuit, adding a gold to her silver and bronze finishes from earlier this week.
Team BC's long track speed skaters were also golden – Jacob Graham (Dawson Creek) and Sara Spence (Kamloops) both won their respective 500m races in Fort St. John on Wednesday.
Silver medals were earned by Mel Pemble (Victoria) in the para alpine slalom, Leia Hoot (Kamloops) in the target shooting air rifle event, and the female long track speed skating team took silver in women's pursuit: Sara Spence, Carolina Hiller (Prince George), Abigail McCluskey (Penticton) and Emilie Medland-Marchen (Kelowna).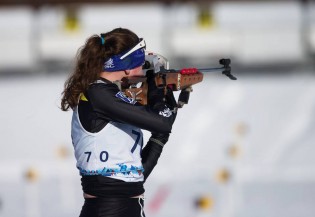 The team of Tony Procter (Prince George) and Emerie Watson (Quesnel) earned a bronze in the compound archery event.
Silver medallist Leia Hoot (Kamloops) relied on a steady hand to finish second in the female air rifle event on Wednesday. The 17-year-old has only been competing in target shooting events for two years; today's event marked her best finish at a national competition.
"In the preliminary qualifier I didn't shoot a personal best, but it was pretty close," she said. "I've been fairly consistent through the week and it paid off today."
Hoot went into the finals in second place and admitted that her nerves started to get to her.
"At first it was really hard to keep calm," she said. "I was nervous and could feel my heart starting to beat faster. When that happens you can feel it on the rifle and even see it through the sights. I just slowed down and tried to breathe."
In addition to winning the silver medal, Hoot shot a cut score, which qualifies her for the national team.
Over the course of just one day of competition, Team BC won three gold, three silver and one bronze medal. B.C. is currently in fourth place in the Canada Winter Games with a combined 24 medals (eight gold, nine silver, seven bronze). Quebec is leading the medal standings, followed by Ontario and then Alberta.
B.C.'s ringette team lost to Manitoba by a score of 7-4. The female hockey team lost its quarterfinal game to Saskatchewan in a sudden death shootout 4-3.
Medals photo by Maja Swannie Jacob.