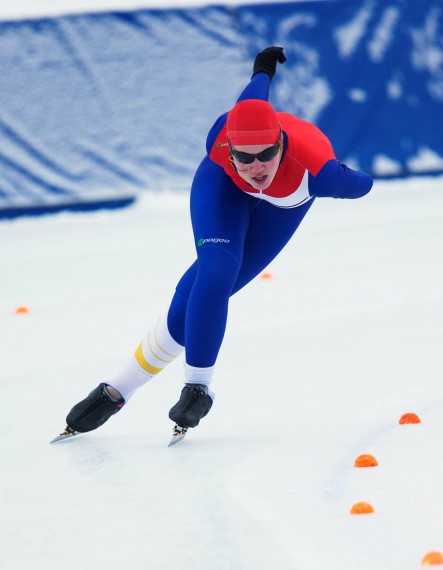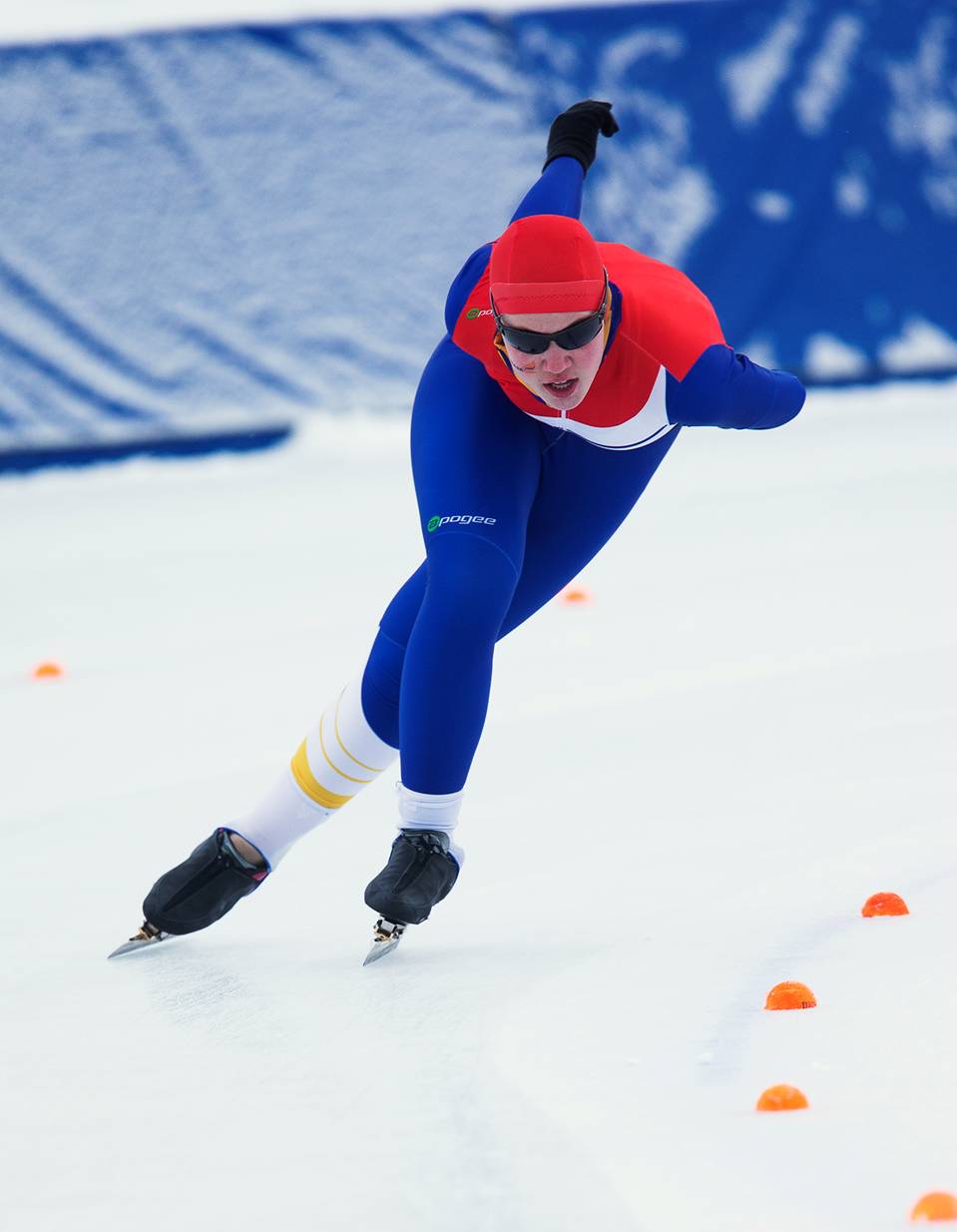 Team BC's long track speed skaters got off to an impressive start at the 2015 Canada Winter Games on Wednesday earning gold in the men's and women's 500m events and a silver in the women's team pursuit.
Jacob Graham of Dawson Creek and Sara Spence of Kamloops (pictured) took top spot on the podium in the 500m. Spence was also part of the team that won silver in the pursuit event with Carolina Hiller of Prince George, Abigail McCluskey of Penticton and Emilie Medland-Marchen of Kelowna.
Despite a change in venue – the long track events were relocated to Fort St. John this week after deteriorating ice conditions closed Prince George's outdoor oval – B.C.'s skaters dominated the day.
Graham won the 500m by one-and-a-half seconds, which is a considerable amount of time in the highly competitive event. The 18-year-old woke up feeling in less than top shape with a sore throat and fatigue.
"I woke up feeling pretty sick and run down and I was worried I might not be able to skate to my best ability today but felt good after the first race and I knew there was more I could do," he said.
Results for the 500m are determined by combining an individual's scores for two races. Graham went into the Canada Winter Games ranked number one, based on personal best times from previous races.
"After the first race today I had a half-second lead, I felt like there was room to improve and I was feeling pretty confident. I added another second after the second race and that locked it."
Graham lives just 45 minutes away from the track where he won gold today and has trained with the Fort St. John club so the ice felt like home.
"This was a completely different kind of competition for me and it's the biggest achievement I've had in my sport," said Graham. "I knew that I could do it but to actually do it felt really good, it was a huge relief."
On the female side of the race, Spence added two medals to her Canada Winter Games experience – gold in the 500m and silver in team pursuit; she won a silver in the 1500m event on Sunday.
Long track speed skating events continue in Fort St. John on Thursday.
Long Track ladies prepped and ready! #WeAreBC @BCSpeedSkating @GoTeamBC @2015CanadaGames pic.twitter.com/pKoDG21DHc

— EmilieMedlandMärchen (@EmilieMedland) February 14, 2015
Long trackers have arrived in Ft. St. John! Ready to get on the ice today in this beautiful facility @GoTeamBC pic.twitter.com/B7BB2cC90D

— EmilieMedlandMärchen (@EmilieMedland) February 17, 2015