Showcasing the eclectic wines of a trio of dynamic wineries based in Kelowna, the five star rating system stresses value for price.


Cedarcreek 2011 Platinum "Block 2" Pinot Noir
Kelowna, British Columbia





1/2 $39.95
Made from grapes grown on deeply-rooted, 21-year-old vines, this gorgeous, intensely-coloured Pinot Noir showcases big, rich, voluptuous flavours of blackberry, cherry and plum with coffee, toast and vanilla; supple tannins. Great match for roast beef and game.
St. Hubertus Oak Bay 2013 Marechal Foch
Kelowna, British Columbia





 $20
A delicious example of this early-ripening French hybrid, Oak Bay's Foch brings deep, dark presence and a big, bold palate with velvety nuances of ripe currants, tobacco leaf, dark chocolate, toasty, smoky oak and vanilla. Serve with game, sausages or lamb.


St. Hubertus Oak Bay 2013 Gebert Family Schönburger
Kelowna, British Columbia





1/2  $24
Benefitting from a hot summer, pink-coloured Schönburger is a stunner. It exhibits intensely fresh, ripe, aromatic, exotic flavours of papaya, lychee, mandarin, pineapple, rose petal and honey. Core of lively acidity balances lush texture. Calls for holiday turkey.
Sandhill 2012 Gamay Noir, Sandhill Estate Vineyard
Kelowna, British Columbia





$19.99
Often underrated, Gamay brings a range of styles from fruity and fun to deep and complex. This richly textured example shows deep colour and sultry flavours of plum, black cherry, black pepper, truffle, smoke and spicy oak. Pair with braised beef, small game.

Sandhill 2013 Rosé, Sandhill Estate Vineyard
Kelowna, British Columbia





$17.99
An eclectic melange of Cabernet Franc, Gamay Noir, Sangiovese and Barbera, Sandhill's intriguing rosé is complex, full-bodied, dry, yet bursting with fresh, juicy red fruits accompanied by notes of earth and chili. Serve chilled with fish soup, antipasto.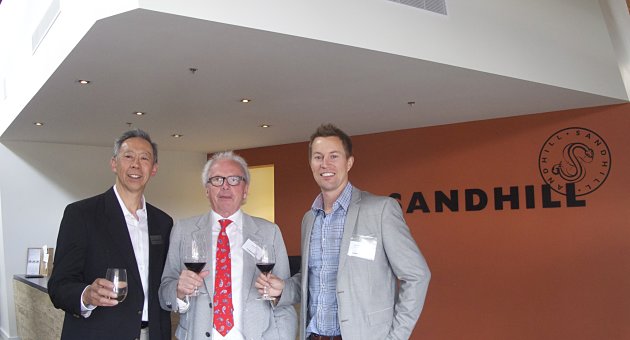 (L to R) Winemaker Howard Soon, Gren Weis, architect, and Kevin Imthorn, Sawchuk Developments, toast to the opening of Sandhill's new tasting centre.