Showcasing spirited wines from BC and around the globe, the five star rating system stresses value for price.


Recline Ridge 2011 Ridgeport
Tappen, British Columbia





1/2 $23.90
A rendering of Maréchal Foch aged in French oak, Graydon Ratzlaff fortifies with a finished brandy for finesse. Nuances of fig, prune, dried cherry, dark chocolate, walnut and cigar box warm the cockles. Partners plum pudding, festive fruit and nut cake.
The View Stiletto Fortified Fruit Wine
Kelowna, Okanagan Valley





$19.90
Made from Okanagan Valley Rainier cherries and tawny in the glass, Stiletto shows delicacy and complexity. Elegant flavours of cherry, fig, butterscotch, almond and chocolate with tartness balancing richness. Calls for finest dark chocolate.


Maverick 2012 Sofia
Oliver, Okanagan Valley





$30
Made by winemaker Roger Wong from grapes grown in the "Two Wongs Make a White" vineyard in Oyama, this charmer exudes freshness and fragrance. Near-dry palate exhibits honeysuckle, green apple, orange peel and pineapple. Relishes canapés and fish terrine.
Blandy's 5 Year Old Verdelho Medium Dry Madeira
Funchal, Portugal





1/2 $29.99
From a grape variety that makes medium-bodied Madeira between drier Sercial and sweeter Bual. A caramel-hued sensory delight, it exhibits notes of raisin, caramel, orange peel, smoky oak and walnut. Chilled with soups or, after dinner, with nuts, dried fruit.

Blandy's Duke Of Clarence Rich Madeira
Funchal, Portugal





$28.99
The perfect introductory Madeira, Duke of Clarence is made from Tinta Negra Mole, the most widely planted grape in Madeira. Amber brown in colour, it features raisin, fig, brown sugar, cinnamon, toffee and walnut. Try with pecan pie or chocolate pudding.
As seen in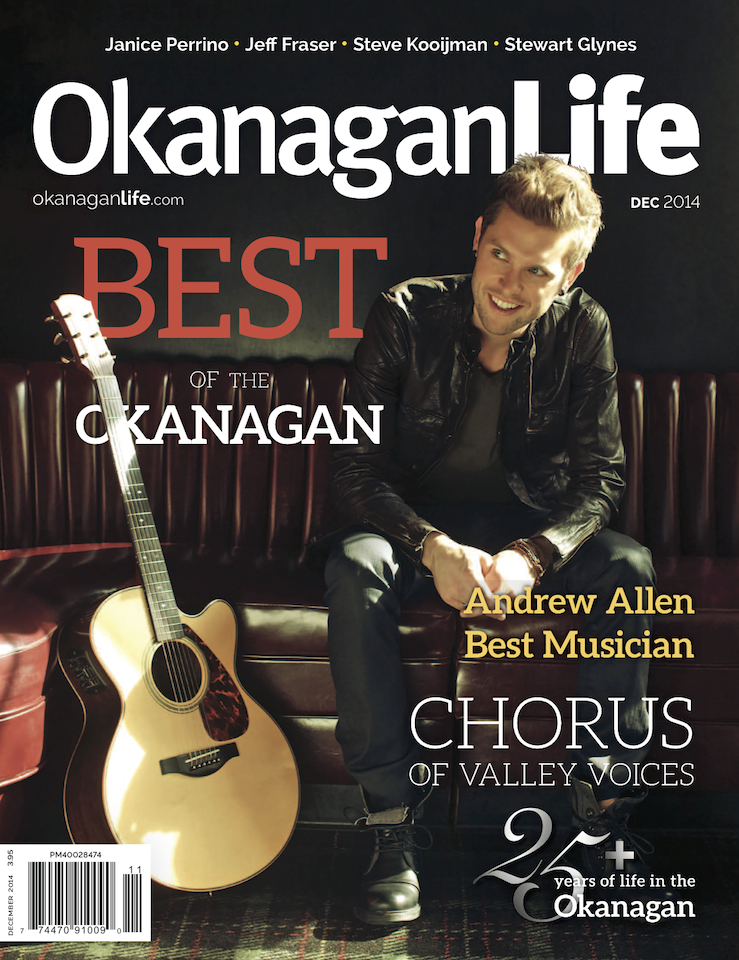 http://okanaganlife.com/wp-content/uploads/sound/Andrew-Allen-I-Wanna-Be-Your-Christmas.mp3
Listen to Andrew Allen's I Wanna Be Your Christmas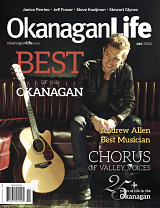 Our December issue features the Best of the Okanagan readers' choice awards. On the cover is the Okanagan Best Musician Andrew Allen. We have some Choral Magic as Okanagan choirs sing it high and we're in the kitchen with chefs Steve Kooijman (Friesen's Countrytyme Gardens) and Stewart Glynes (The Bench Market), both award winners for Best Breakfast.