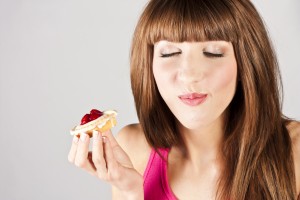 Taste of Downtown showcases the many great restaurants, eateries and cultural cuisine Downtown Kelowna boasts. This free event will feature a self-guided tour of Downtown Kelowna restaurants and cafes on September 7, 2013.
What better way to celebrate the variety and diversity of Downtown Kelowna's 90-plus eateries and drinkeries than by making the acquaintance of a few dozen delicious samples?
Grab a Taste of Downtown Passport, follow the map to collect signatures, and try samples at each participating restaurant. Once you've got all your signatures, drop off your Taste of Downtown Passport and enter to win awesome Downtown Kelowna prizing.
Taste of Downtown Restaurants
| | |
| --- | --- |
| Annegret's Fine European Chocolates | 565 Bernard Ave. |
| Arcade Audio Lounge | 526 Bernard Ave. |
| Bai Tong Thai Restaurant | 275 Bernard Ave. |
| Blenz Coffee | 297 Bernard Ave. |
| Bliss Bakery & Bistro | 109-1289 Ellis St. |
| Bread Company | 363 Bernard Ave. |
| Casa Sasso Italian Food Bar | 426A Bernard Ave. |
| Chaibaba Tea House | 104-1289 Ellis St. |
| Chopped Leaf, The | 243 Bernard Ave. |
| Doc Willoughby's Downtown Pub | 353 Bernard Ave. |
| DunnEnzies Pizza Co. | 1559 Ellis St. |
| Gallery Bistro | 1399 Ellis St. |
| Grateful Fed, The | 509 Bernard Ave. |
| Gueng Korean Restaurant | 467 Leon Ave. |
| La Bussola Italian Restaurant | 1451 Ellis St. |
| Mon Thong Thai Restaurant | 1573 Ellis St. |
| O'Flannigans Pub | 319 Queensway Ave. |
| Okanagan Spirits Distillery | 267 Bernard Ave. |
| O-Lake Cafe & Bistro | 375 Lawrence Ave. |
| Pita Pit | 229 Bernard Ave. |
| Pulp Fiction Coffee House | 1598 Pandosy St. |
| RCA Bistro | 421 Cawston Ave. |
| Sliderz Community House | 235 Bernard Ave. |
| Social 242 Lounge & Grill | 242 Lawrence Ave. |
| SS Korean Restaurant | 280 Bernard Ave. |
| Streaming Cafe | 596 Leon Ave. |
| Swankies Gourmet Hot Dogs | 1282 Ellis St. |
| Train Station Pub | 1177 Ellis St. |
| Tripke's Bakery & Bistro | 567 Bernard Ave. |