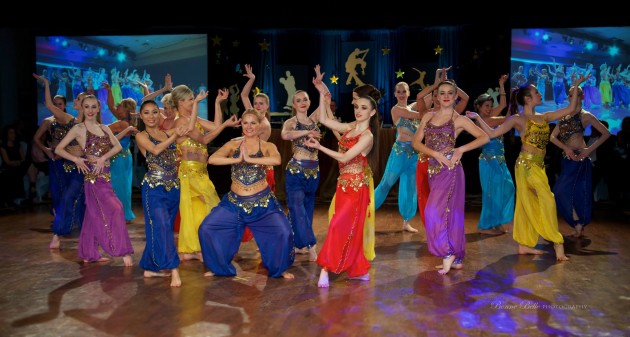 The Central Okanagan Hospice Association Swinging with the Stars event raised nearly a quarter of a million dollars. Since the event's inception seven years ago, a million dollars has been garnered for the organization through this signature event.
Presented by Bayshore Home Health, Jane Hoffman Group Coldwell Banker Horizon Realty and Global Okanagan, the event saw local 'dancing stars' jive, tango, disco, Bollywood and country dance – even a contemporary love story was performed. All funds raised support hospice programs to provide care, comfort and compassion to those living with a terminal illness.
"We decided to step outside the ballroom dance genre once again this year, which definitely added to the entertainment value and variety of the dances – it is a fantastic evening that is enjoyed by all," said event coordinator Jan Woolsey.
"We could not have done it without the amazing support of our local celebrities and the dance community. Our performers sign on with a goal to not only learn and perform a dance routine but also to raise funds with a campaign team in support of the Central Okanagan Hospice Association. Two of our teams were in a tight race – at one point only $4.87 separated them!"
This year, the 'most pledges raised' trophy was awarded to Carey Small and his campaign team of Shelley Small and Lorraine Miller. Team Small raised over $34,000. In total, the six teams raised over $116,000.
The winner of the 'audience choice trophy' was presented to Team Bollywood. The high energy Bollywood dance was a first for the event and performed by an ensemble cast consisting of Anita Clegg, Brenda Valnicek, Laurie Koss, Louise Koch, Lorraine Penfound, Rose Sexsmith and Jan Woolsey. The ensemble was coached by Chisa Glendenning of the Canadian School of Ballet.
The 'judges choice' trophy was awarded to Val Cocar and Kurt Werner of Kelowna Dance and Performing Arts. Val and Kurt performed a high caliber technical jive that was technically challenging and wowed the audience.
"We know we have a truly unique, entertaining and popular event that the entire community enjoys," said Central Okanagan Hospice Association executive director Susan Steen. "It is something people look forward to, something different from other fundraising events. We are so very grateful for the support of the whole community and the hard work of everyone involved."
The event is based on the popular TV show, Dancing with the Stars. Other community dancing stars who performed this year included Bill Mulgrew, Gillianne Richards, Quinn Best, Melissa Schmidt and Lonnie Van Diest.
The Central Okanagan Hospice Association is a community-based non-profit organization that provides services and supports, through trained volunteers, to individuals living with or dying from advanced illnesses and their loved ones. All funds raised will support the palliative and bereavement Hospice programs.
Photos by Bonne Bell Photography.