Refreshing whites, rosés and juicy reds to soften that summer heat
Settle into a patio chair and throw some ice in the cooler. Here's some crisp refreshing summer wines to help you through those hot afternoons and warm evenings.
These summer sips offer a journey through the season, from the scent of fruit blossoms, strawberries and raspberries to the tastes of crisp green apples and tangy lemon, lime and grapefruit. Summer wines are aromatic and fragrant, if not heady on the nose, and promise a refreshing mouth watering finish.
White grapes such as Riesling, Chenin Blanc or Sauvignon Blanc are naturally high in acids and promise to be a bright and crisp.
Riesling in particular is great at expressing terroir, the particular land and environment the grapes grown in. Lang Vineyards in Naramata boasts the oldest Riesling in B.C. and the rocky slope has forced the roots of these 35-year old vines to go deep into the ground, picking up more of the natural minerals. Their Farm Reserve Riesling is well balanced and complex, and lingers — just how we hope those hot summer nights will.
It's a little off-dry, yes just a hint of sweetness, so it's perfect to sit on the patio and just sip. Which brings me to those other beautiful off-dry whites with their intriguing names, like Pinot Auxerrois, Gewurztraminer or Ehrenfelser. There all fruit forward with a touch of sweetness to highlight the flavours and when done well, a tangy but subtle acidity to keep your refreshed.
Ehrenfelser, a cross of Riesling and Silvaner, was named for a castle on the Rhine so go ahead and feel a little regal out on the terrace enjoying an expansive view of Okanagan Lake sipping a wine with royal roots.
When stocking up on summer whites, don't overlook a Chablis-style Chardonnay. Unoaked and fermented in stainless steel, this light and refreshing white promises floral and green apple aromatics and an acidity that will "stimulate your taste buds and make your mouth water," says Township 7 winemaker Mary McDermott.
The Chardonnay grapes come from Hidden Terrace vineyard nestled behind McIntyre Bluff, north of Oliver. Here the higher evaluation keeps the grapes cooler, key to maintaining big aromatics and good acidity. You'll find similar cool conditions throughout Lake Country, Kelowna and Naramata and some amazing summer wines.
"We have enough heat in the summer time to ripen just about anything properly but we also have the cooler breezes off the lake in the early evening which helps to keep thing cool," says Lake Breeze winemaker Garron Elmes. "You have enough time on the vine to ripen but you don't loose the natural acidity of the grape."
Pinot Noir really shines here and because its best served chilled, another great summer wine to add to your list. Add some playful sparklings and some rosés (hurry or all these luscious pinks will sell out) and your summer wine list is complete.
Photo by Chris Sternberg, Lake Breeze vineyards soak up the sun on the Naramata Bench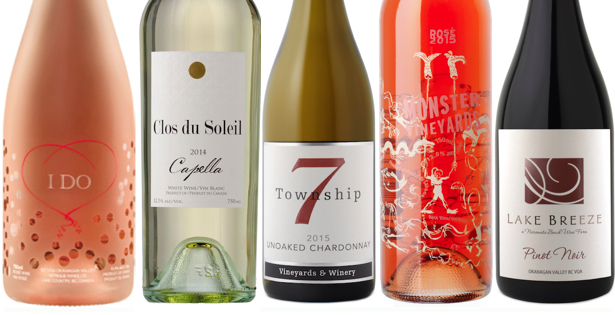 ---
As seen in
[downloads ids="137099″ columns="1″ thumbnails="false" full_content="yes"]