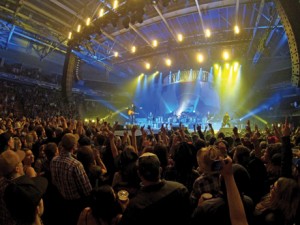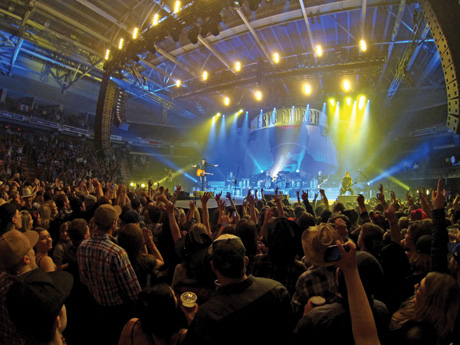 The South Okanagan Events Centre is celebrating a milestone anniversary this month. For the past five years, the SOEC has played host to a wide range of major events, drawing crowds from throughout the region for top-notch entertainment. Their recent line-up is both varied and stellar: the athletic prowess of the Canucks Young Stars Classic; stirring Gaelic storytelling with Celtic Thunder; pounding rock beats with Bad Company and alternative rocker Matthew Good; country music from superstar Dwight Yoakam and the legendary Loretta Lynn.
The facility's management team, Global Spectrum, assumed the contract of the SOEC Complex in July 2007, and since opening the SOEC in September 2008, they've earned a reputation for bringing new and major events to emerging markets, helping to make the SOEC Complex a prime destination for concerts, conventions, and major events.
Since its opening, the Complex has hosted 1,115 events, attracted 1.09 million people to the South Okanagan Valley and achieved major industry recognition and awards; Venues Today ranked it the #1 arena venue in Canada in the 5,000 or less capacity for 2012 Top Stops, and they've been garnered with the 2012 Business of the Year in the Penticton and Wine Country Chamber of Commerce Business Excellence Awards.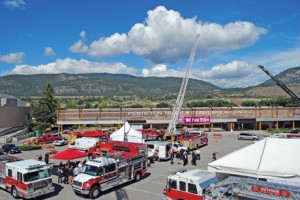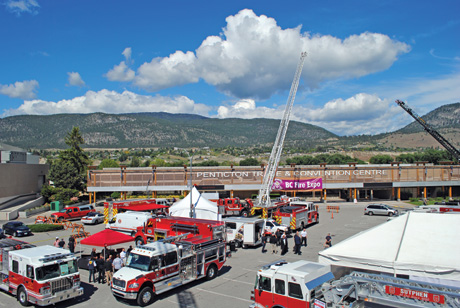 The full complex consists of the Penticton Trade and Convention Centre, the South Okanagan Events Centre, Memorial Arena, the Vees Junior A Hockey Team, and the Okanagan Hockey School Training Centre. Combined, they offer a broad spectrum of convention and meeting space, and sports and entertainment events.
One of the largest convention and trade show facilities in British Columbia (outside of Vancouver), the Penticton Trade and Convention Centre features over 60,000 square feet of flexible meeting and exhibit space. The PTCC also features 14,280 square feet of pre-function space with natural light and outdoor patio areas. Whether you are looking for a grand ballroom or down-to-business boardroom, they have an area suited to your every need. Meeting planners will be delighted with the PTCC's full service catering and convention staff, professional full service audio-visual department and high speed internet access for meetings—in short, they will take care of every detail to make your event a success.
Book your event at www.pentictonconventioncentre.com.
With the addition of the new South Okanagan Events Centre, an additional 30,000 square feet of flexible space is available. This multi-purpose facility which opened in September 2008 focuses on both entertainment and sports, with 500 premium club seats, 24 private luxury suites and 2 hospitality suites; its overall seating capacity is 5,100 for hockey and on-ice events and over 6,500 for concerts, shows and other events.
Check out their current line-up and get your tickets at www.soec.ca.