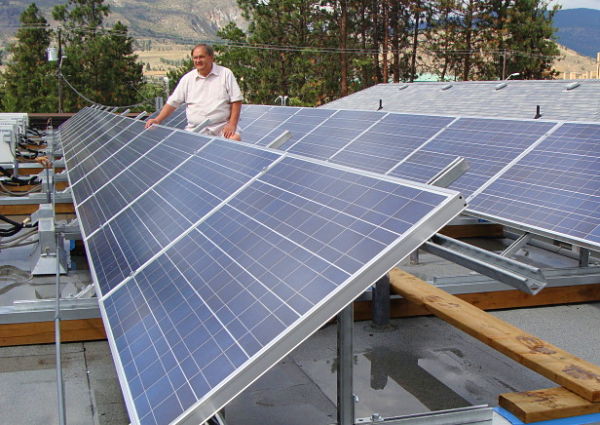 Peter Diakonow, owner of the Waterfront Inn in Penticton in the South Okanagan, is greening his roofline with solar photovoltaic panels.
To reduce energy bills, Peter Diakonow's Waterfront Inn on Skaha Lake in Penticton is greening its roofline with 30 solar photovoltaic (PV) modules to produce electricity and 10 solar thermal collectors for domestic hot water and pool heating.
"We have web-based readings of 44 kWh on every sunny day and it's exciting to watch the system perform," says Peter who is also happy with the economics. "The re-capitalization time for our solar hybrid system will be much sooner than 20 years."
Pro Eco Energy (Swiss Solar Tech) of Summerland did the installation. "I'm very happy about the professional consulting and clean workmanship they have provided," says Peter. Stantec Consulting, which was in charge of the structural and mechanical engineering, found a roof mounting solution that required no roof penetrations, which saved time and money.
Peter says, "Another bonus is the media coverage for greening my business. I'm certainly not done yet, I plan to add more solar modules in the near future as long as there is room for it."
www.waterfrontinn.net
www.stantec.com
www.proecoenergy.ca
SPECIAL PROMOTIONAL SECTION
For opportunities to be in our Homes section, see Advertising.