Skaha Hills, the $250 million master planned community being developed by Greyback Developments, announced today that it has partnered with Stage West Hospitality to build a $5.2 million winery and vineyard on its south west Penticton site overlooking Skaha Lake.
"The winery and other facilities will provide many benefits to the Penticton Indian Band and adds a remarkable entrance feature to the Skaha Hills development," says Chief Jonathan Kruger. "Revenue in the form of taxation and utilities, training and employment of our people at the winery and in the retail and hospitality sector are just a few of the residual benefits."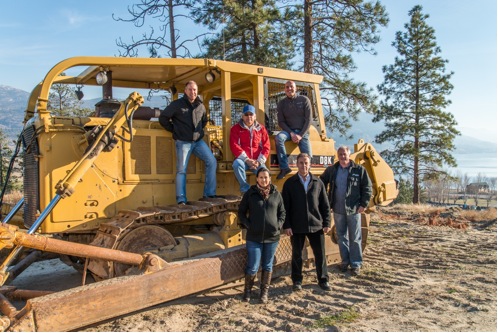 The agreement was made possible following a successful winery amenity referendum held by the Penticton Indian Band in October when the Band's members voted in favour of leasing a two-acre site at the entrance to the Skaha Hills. The terms include permission to build and operate a winery and associated facilities, including a restaurant.
The winery at Skaha Hills will feature an iconic modern architectural building that will house a wine shop and tasting lounge, indoor/outdoor bistro with additional function space, viewing platform and a 12-acre vineyard. Wine varietals will be Cabernet Franc, Cabernet Sauvignon, Merlot, Chardonnay, Sauvignon Blanc, and Viognier. Pre-construction activity on the vineyard starts in a couple weeks and construction on the winery will begin in 2014. The winery is planning on producing 6,000 cases in 2015.
The location on the west side of Skaha Hills enables the entire vineyard to have a south east exposure from sunrise to sunset, which is ideal for grape growing.
Stage West Hospitality will build and operate the as-yet unnamed winery and it has selected Mohamed Awad as the general manager. Awad is well known in the Okanagan as he managed the Spirit Ridge Resort and Vineyards in Osoyoos and is a former manager of the Black Hills Estate Winery.
"We are very excited to be launching this winery as the site is incredible," says Awad. "Its location on the west side of Skaha Hills enables the entire vineyard to have a south east exposure from sunrise to sunset, which is ideal for grape growing. In addition, its location is perfect, we will be the closest winery to Penticton, a natural starting point for the south Okanagan wine region and we are located near the airport."
The winery is one of many intended amenities to be built at Skaha Hills. Situated on a spectacular east-facing 550-acre site on South Okanagan bench lands, Skaha Hills is the first and only development on that site. The community will develop in seven phases attracting multi-generational markets. Skaha Hills will be opening its sales centre in spring of 2014. At full build-out, Skaha Hills will consist of 600 homes with protected lands surrounding the community, guaranteeing uninterrupted views and walking/cycling trails leading to the winery.
Stage West Hospitality has been entertaining Canadians for over 30 years with its vast portfolio of hotels, restaurants and casinos. This is its second First Nations partnership having previously collaborated with the Stoney Indian Band in Alberta on the Stoney Nakoda Resort near Kananaskis.
Photo: Skaha Hills will start pre-construction activity on Okanagan's newest vineyard in December. The partners stop for a quick photograph onsite.