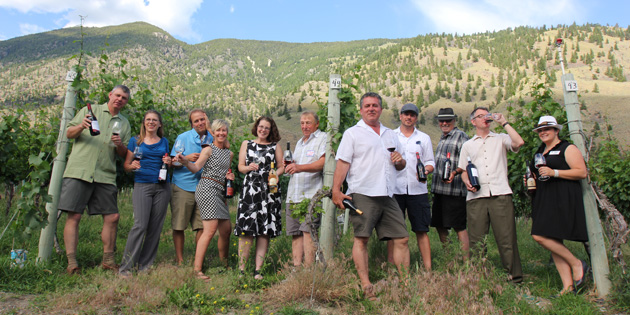 New vineyards, new wineries, new players.
See what's shaking in this burgeoning wine region.
In the fruit-growing countryside around Cawston and Keremeos, wineries of the Similkameen Valley are winning accolades for excellence. On a recent visit I unearthed new wineries and structures, adding vibrancy to a wine region already abuzz with excitement.
The star attraction is Seven Stones Winery, 10 kilometres south of Cawston. Owner/winemaker George Hanson's stepson, talented concrete specialist Colin Wilson, designed and built a 3,000 square foot underground cave with a 300 barrel capacity, waterfall and remarkable wrought iron trappings. Access to Hanson's "man cave" is a private tunnel from his house, in addition to the splendid spiral staircase from the enlarged tasting room above.
Across the highway, recently-opened Hugging Tree Winery took root when career RCMP officers Walter and Cristine Makepeace purchased an organic orchard (on Hanson's advice). With free-spirit son Brad, Walter planted 20 acres of vines as they both took the viticulture and winemaking programs at Okanagan College. The inviting cellar door opened in 2014.
Nearby Vineglass Vintner's Resort, on the banks of the peaceful Similkameen River, is based on an imaginative earth-to-plate agritourism concept featuring a wine country resort and small winery. The genius of the 7,000 vine vineyard was planting it in such a way that a big wine glass can be seen from a nearby hillside. Owned by veteran grape grower Roger Hol, Vineglass is now open for business.
Launched in 2014, Twisted Hills Craft Cider attracts seekers of small-batch, hand-crafted ciders from home-grown, organic cider apples. "Cider apples are more tannic and have more character than apples for eating," says Kaylan Madeira, who runs the cidery with orchardist, partner Joe Schneider.
Opened in 2013 on Beecroft River Road, Corcelettes Estate Winery expanded with the purchase of the former Herder property on Upper Bench Road in Keremeos, where production, tasting and sales facilities are located. The exuberant residents of the showcase home are winemaker Charlie Baessler, son of owners Urs and Barbara Baessler, and wife Jesce.
Next door at Clos du Soleil Winery, the old barn is gone and a state of the art winery is nearing completion. "With production soaring, the barn was too small," says Michael Clark, who oversees winery and vineyard operations. He adds, "The confluence of Bordeaux-type grape varieties and distinctly Similkameen terroir is a match made in heaven."
Similkameen BBQ King Competition
Taste an array of Similkameen wines at the Similkameen BBQ King Competition July 11 at the historic Grist Mill and Gardens in Keremeos. "This year 12 wineries will be participating in the event, up from nine last year," says Similkameen Wineries Association spokesperson Kim Lawton.
Photo L to R: Tim and Caroline Cottrill, Robin Ridge Winery; John and Virginia Weber, Orofino; Tara Woodin, Sage Bush Winery; Steve Venables, Forbidden Fruit Winery; George Hanson, Seven Stones Winery; Anthony Buchanan and Dale Wright, Eau Vivre Winery; Mike Clark, Clos du Soleil Winery; and Sara Harker, Rustic Roots Winery.
[downloads ids="129372″ columns="1″ thumbnails="no"]