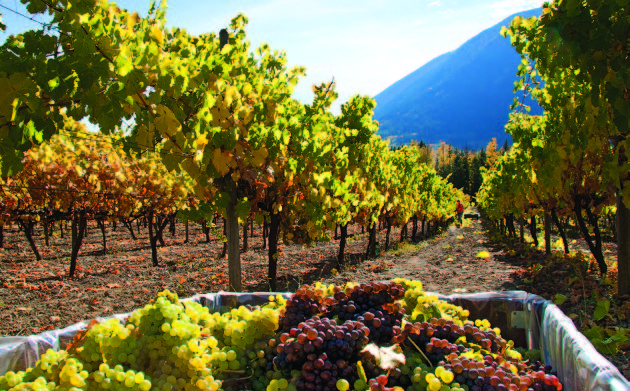 Shuswap: Cool climate, cool wines
For those of us who view the Shuswap as an extension of Okanagan wine country, it's time to take another look at the peaceful kingdom to the north where several wineries are thinking of joining forces to apply for appellation status. Sprinkled widely over the rural countryside around Salmon Arm, the Shuswap's five welcoming wineries are artisanal, family-owned-and-run operations where the farming lifestyle still reigns. Working with cool climate, terroir-stamped fruit from early ripening grape varieties, Shuswap wineries are skilled at making richly-extracted wine with finely-tuned balance of acidity and sweetness at a smaller than expected hit on the pocket book.
Travelling from Vernon, the tour starts at Larch Hills Winery, which considers itself as much a part of the neighbouring North Okanagan as the Shuswap. One look at the view of Deep Creek Valley and Enderby from the picnic area shows why. This is the place to buy Jack and Hazel Manser's latest hit, a Sparkling Ortega that combines fun and fantastic fruit.
West of Salmon Arm the Trans-Canada Highway leads further into Shuswap wine country. Recline Ridge welcomes visitors to an impressive log construction cellar door. Their alluring patio, a great spot for sampling wines with local delectables such as Gort's Gouda, looks out on north-south rows of vines and the imposing presence of Mount Tappen.
Back on the highway keep a sharp lookout for Sunnybrae Canoe Point Road, which skirts Tappen Bay and the Salmon Arm of Shuswap Lake. Five generations of Barry Turner's family have farmed the lakeside property, now home to Sunnybrae Vineyards. With wife Nancy and their three daughters, they grow 7.5 acres of vines and run a spacious cellar door that opens to a balcony overlooking the lake.
Take the road to Anglemont on the north shore to reach Celista Estate. Jake and Marg Ootes' 160-acre property lies high on a hill facing the lake. North America's most northerly winery features a 5-acre, south-sloping vineyard and a tasting room with a unique pine-beetle counter.
From Salmon Arm head south along Salmon River Road to Ovino, nestled serenely beneath Mount Ida. John and Catherine Koopmans started here with a dairy farm then switched to the wine business when they planted a four-acre vineyard on the crest of a hill in 2007, adding further experimental varieties 2 years later. After the harvest, John allows his small herd of sheep to graze in the vineyard.
Plan a trip to this emerging wine region and taste for yourself the unique qualities of Shuswap wines.
Shuswap Wineries Map
Visit www.winebc.com/plan to plan a trip.
Shuswap photo by Laurie Carter.
---
[downloads category="current-issue" columns="1″ full_content="yes"]