Okanagan wine writer Michael Botner packs his bags and heads straight to the source for his global gander at a perennial favourite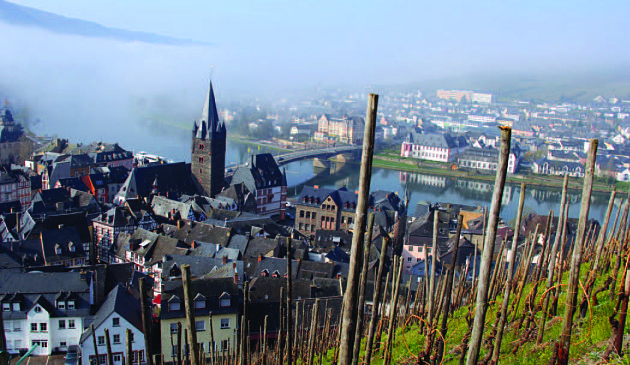 At a 180 degree bend of the Mosel River in Germany, the great Doctor vineyard reigns over the Hänsel- and-Gretel town of Bernkastel. Rising steeply over the rooftops, Doctorberg benefits from brittle blue, red and gray slate soils that absorb heat and light, including that reflected by the river, and retain humidity. Conditions like this are ideal for growing the exceptionally winter hardy, mineral defined Riesling, making it the exclusive go to variety planted by the best estates on their finest sites.
For centuries, Rieslings from the best of the best vineyards, like the Doctor, have been praised in the same breath as the first growths of Bordeaux. Considering the timeless beauty of the setting, tasting richly extracted, delicately textured jewels like 2010 Berncasteler Doctor Riesling Auslese in situ is a bonus. Thanisch's talented winemaker Maximilian Ferger explains that "part of the new wine is left to settle in 65 year old barrels made from oak harvested in this region."
The grape also shines in other wine regions of Germany, particularly Rheingau, home to classic Riesling from the village of Johannisberg. The warmer Alsace region, across German's eastern border, is the only one in France allowed to grow Riesling. The wine it produces tend to be stronger in alcohol and typically drier in the full-bodied French style. Likewise, Austria.
In the New World, Riesling is one of Australia's "best kept secrets," in the words of Penfolds' chief winemaker Peter Gago. Look to the cooler areas Clare Valley and higher elevations of the Eden Valley, both in South Australia, for dry, dense, long-lived examples with exotic aromas, lime flavours and ahoneyed, toasty character.
Closer to home, Ontario`s Niagara region and the Finger Lakes in New York produce finely-tuned, mineral-imbued, cool climate Rieslings from soft, floral, delicate table wines to luscious, intensely-flavoured Icewines.
Riesling`s fall from fashion been the trend in the Okanagan where its acreage has dropped to 4th place among white varieties planted. Don't blame growing conditions, which are near ideal in the Okanagan. Thanks a crew of committed producers, there are many fine examples, and they are getting acclaim at home and abroad. Mindful that our world famous Icewines will be explored in a future column, Okanagan Riesling producers heading the pack include Tantalus, Lang and Wild Goose, as well as Mission Hill with Martin's Lane Riesling, a joint effort by winemakers John Simes of Mission Hill and Fritz Hasselbach of Gunderloch in the Rheinhessen.