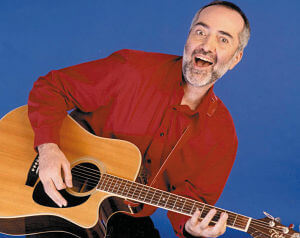 Children entertainer Raffi will be in concert in Kelowna at the Kelowna Community Theatre on Saturday, January 18. Tickets on sale Friday, November 1 at 10:00 a.m.
A singer, producer, author and tireless advocate for children, Raffi is best known for his work as a children's entertainer whose string of gold and platinum-selling recordings in North America includes his classic song, "Baby Beluga." Once called "the most popular children's singer in the English-speaking world" (Washington Post) and "Canada's all time children's champion" (Toronto Star), Raffi is also a recipient of the Order of Canada and the United Nations' Earth Achievement Award. His commitment to honouring his young fans changed society's outlook on music made for children.
"I'm delighted to be singing for children and their families again," says Raffi.
In 2010, Raffi founded The Centre for Child Honouring on Salt Spring Island, BC. With the motto "Respecting Earth & Child," the Centre is at the heart of a global movement that views honouring children as the best way to create sustainable, peacemaking societies.
Recently, Raffi published a new book for adults, Lightweb Darkweb, about the critical need to reform social media, especially for young users. As well, he co-founded the Red Hood Project, a grassroots movement for consumer protection for children online.
On November 12, Universal Music Canada will release Fun Food Songs, a collection of fifteen playful songs all about food. The compilation, which draws from Raffi's quintessential children's albums, features such beloved classics as "Peanut Butter Sandwich", "Bananaphone" and "Going On A Picnic," as well as traditional tunes like "Down By The Bay" and "Day O."
Ticket for the Raffi concert are available from Select Your Tickets Box Office.
Proceeds benefit The Centre for Child Honouring.
www.childhonouring.org