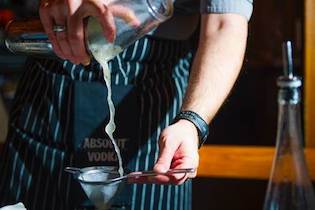 Big White Ski Resort hosted the 2nd annual Absolut Bartending Competition on February 1 in the Village Centre Mall.
Guests satiated in samples of craft beer, local and international wine portfolios and spirits and noshed on a delectable spread at several food stations. Alternatively to last year's event, guests in attendance were able to sample each and every cocktail entered in the competition to have a say in the People Choice category of judging.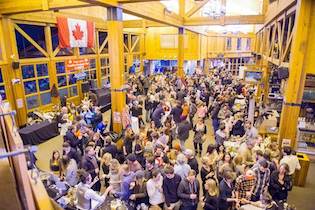 This year's Absolut Bartending Competition winner was Nathan Head, of Milk Tiger Lounge in Calgary, Alberta with his cocktail "Post Modern Cosmo #45."
Nathan's creative concoction included Absolut Elyx, organic sugar syrup, Dillon's lemon bitter, bitter cranberry and citric acid orange oil. The deserving winner walked away with an all-expense paid trip to Sweden to visit the Absolut distillery.
Big White's very own Brad Machon, of Globe Café & Tapas, was one of the competitors with his cocktail "The Long Awaited Iced Tea," a modern rendition of the classic Long Island Iced Tea.
"This was my first bartending competition besides the heat that originally qualified me. It was amazing to be immersed in the Absolut culture and it was a great experience meeting bartenders from all over Canada," says Brad Machon.