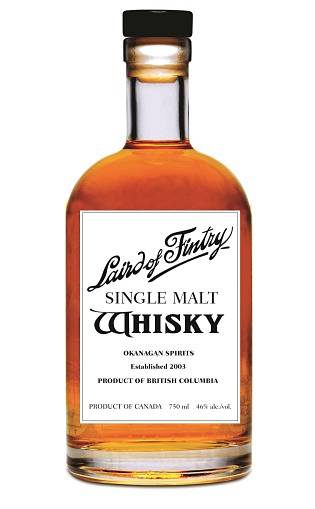 Okanagan Spirits Craft Distillery is pleased to announce the opening of its much anticipated Laird of Fintry Single Malt Whisky lottery.
Produced in small batches using 100% B.C. malted barley, B.C.'s oldest craft distillery releases the exclusive Laird only once a year.
Since its release in the fall of 2013, the whisky has gained major local interest. The initial batch of the Laird received over 1,400 lottery participants spanning Canada, the last bottle of the batch was auctioned off for $550 at the annual Remind, Reminisce, Remember fundraiser in Vernon held in support of the Alzheimer's Society of B.C.
The Laird of Fintry title is based on James Cameron Dun-Waters, the 'Laird' of Fintry estates, who in the early 1900s ordered a special batch of personally labelled Single Malt Whisky (Scotch) from Scotland.
Using a replica of the original label, Okanagan Spirits Craft Distillery wanted to pay homage to the history of whisky in the Okanagan. In turn, it also supports the 'Friends of Fintry Society' with an annual donation to help maintain the original property.
The lottery will be open until Sunday, October 18. The draw will take place the week of the October 19. Those selected for the opportunity to purchase a bottle, will be notified directly from the distillery by either email or telephone.
The Laird of Fintry retails for $74.95.
Sign-ups are available at either distillery as well as on okanaganspirits.com