When an independent business marks 25 years, it's a time for celebration.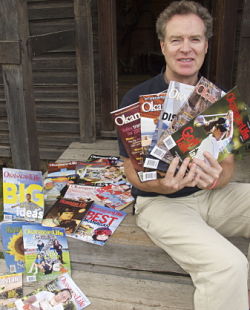 In hundreds of cities and towns throughout Canada, artists, groups, volunteers and supporters are joining together in a celebration of culture. Culture Days has set a lofty goal of having all Canadians in every community declare "I Love Culture" and making culture a daily habit.

Here at Okanagan Life, celebrating Okanagan culture has been a habit for a quarter century. This month marks our 25th year and we're honoured to join with the Kelowna Art Gallery to kick off Culture Days in the heart of Kelowna's Cultural District. If you haven't been to this showcase gallery, I invite you to come and explore. Take part in the festivities and have a tour.
We've dug into our archives to present a showcase of magazine photography. Since 1988 our photographers have captured the essence of lifestyle in the Okanagan Valley; showcased cultural, community and business leaders; and documented events such as the 2003 Okanagan Mountain Park Fire.
Our celebrations of culture and Okanagan lifestyle continue throughout the fall as we join with Valley businesses, artists, musicians and best restaurants to celebrate with you, our readers. Okanagan Life reaches readers in every community from Salmon Arm in the north to Osoyoos in the south, so we're celebrating throughout the region.

For the arts, we have a special performance of Sentimental Journey with Theatre Kelowna on September 29; opening reception for the Stephen Foster and Kama? Creative Aboriginal Arts Collective exhibitions at the Vernon Art Gallery on October 24; and we've joined with the Cove Lakeside Resort to offer local food, fine wine, music and incredible art on the West Kelowna waterfront October 6. The Perfect Palate event features some of the very best of the Okanagan art community including Lee Claremont, Alex Fong, Jock Hildebrand, Louise Lambert, David Montpetit and more.
For families, we have a special ride on the Kettle Valley Steam Railway on Thanksgiving Sunday, October 13 and a $2.50 afternoon swim at the H2O Adventure & Fitness Centre on Sunday, October 20. Both have been voted Best Place for Family Fun by our readers.
We've celebrated the arts and culture, but over these many years we've also brought you the stories behind of the people in the Valley. You may remember an earlier edition of Okanagan Business with a young Walter Gray on the cover, or the Best of the Okanagan issue with a smiling Mike Roberts from CHBC. Perhaps you still have your copy of the Okanagan Mountain Park Fire with Gerry Zimmerman and Beryl Itani.
If you have been in our pages or on the cover we've got a glass of champagne for you and a unique evening of incredible food, local talent and celebration. The Okanagan Life Cover Party, a gala fundraiser for Ballet Kelowna, is at the Delta Grand Okanagan on October 11.
When an independent business marks 25 years, it's a time for celebration. It has been my privilege and honour to support local businesses by publishing a top-quality magazine built upon integrity.
For anniversary celebration details and tickets visit our 25th Anniversary section.
And while you're visting okanaganlife.com, please vote for your favourite businesses for our Best of the Okanagan issue.