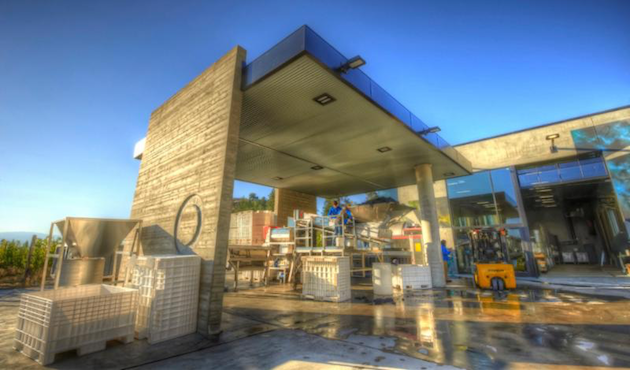 Okanagan Crush Pad, located in Summerland, BC, can now add the words "craft distillery" to its name with the purchase of a still and the license to make spirits. The spirits program will be under the direction of chief winemaker, Matt Dumayne. He has years of experience distilling in his native land, New Zealand, and recently completed a distilling course in preparation for the launch of spirit products under the Narrative label.
Okanagan Crush Pad will release a grape based spirit called Distilled Small Batch on October 1 to officially launch the spirits program. The Distilled Small Batch was created from a blend of red and white wines. Dumayne conducted dozens of trials to achieve the right balance.
"For our inaugural release we wanted to represent the different growing regions of the Okanagan as each variety added a new layer of complexity to the base product," says Dumayne. "This is a brandy made in a vodka style, with a lot of refinement. The end result is very clean and fresh with a hint of spice and fruit notes. It is intended to be consumed with mix or my own favourite, with tonic and ice. This really enhances the botanical aspects of this batch."
The impetus for obtaining a still and distillery license came about as the winery was looking for high quality grape-based spirits for a fortified wine. "We came to the conclusion that we didn't want to add anything to our wine that we had not personally crafted and started what became a two year process to obtain the still and the license to run it," says Okanagan Crush Pad owner, Christine Coletta. "We are on a path to use exclusively organic grapes by the 2017 harvest and use zero or minimal winemaking additives, hence the need to control any spirit that would be used for fortification."

For his next trial, Dumayne will continue with Okanagan grown grapes as a base and will age the spirit in old Pinot Noir barrels. The winery has also distilled additional products and will offer it to other wineries wishing to fortify wines with grape-based spirits.
NARRATIVE DISTILLED SMALL BATCH $39.90
Alc 40.0% | Release Date: Early October
A blend of seven different grape varietals from vineyards in Oliver and Summerland. Each variety provides a unique profile arriving at a spirit with complexity. This small batch has a lush, sweet texture with a hint of botanicals and spice: the end result is a vodka-esq grappa, Okanagan Style. Clean with a glacial freshness.
Okanagan Crush Pad was established in 2011 in Summerland, BC on Switchback Organic Vineyard which offers sweeping views of Okanagan Lake. Owners Christine Coletta and Steve Lornie are committed to creating pure, natural wines that tell the story of a very special place. It is here they craft Haywire and Narrative wines along with offering custom wine services for other winemakers.
---
[downloads category="current-issue"]