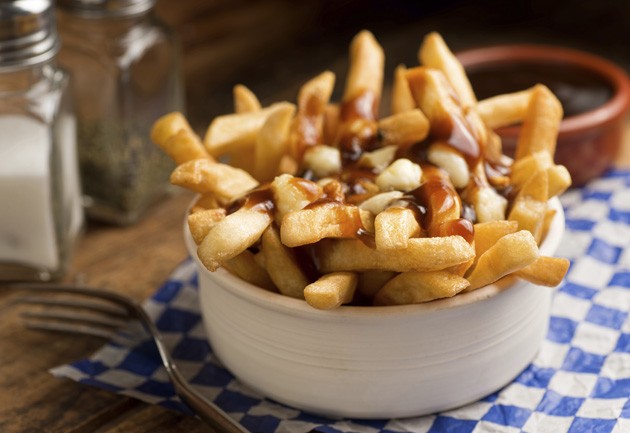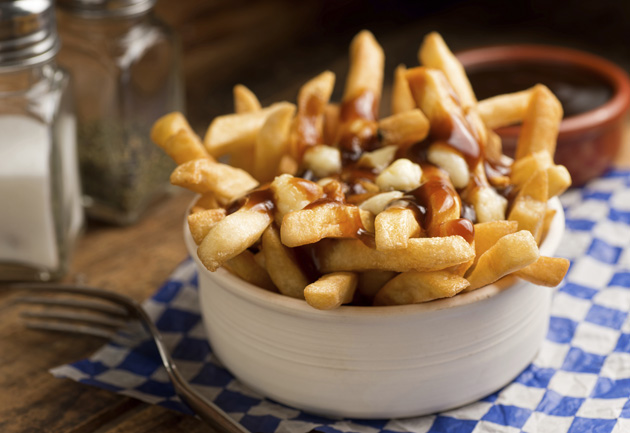 If you're a fan of both Pinot Noir and poutine, you're in luck! The Okanagan Wine Festivals Society is partnering with Squeaky Cheese, the Dairy Farmers of Canada and the Hotel Eldorado to host their first gourmet poutine and wine pairing dinner.
On the evening of February 20, Hotel Eldorado Chef Vince van Wieringen will create seven poutine dishes using the freshest cheese curds from Squeaky Cheese and Dairy Farmers of Canada, each paired with two different wines of the British Columbia Pinot family. The creative menu showcases sauces that include duck confit and sparkling Pinot, smoked salmon and Pinot Blanc, pork belly and Pinot Noir, and lobster with Pinot Blanc dessert wine. The event is already sold out, but there is a waitlist available- tickets are only $60. The menu and more information is available at: www.thewinefestivals.com/poutine-pinot.
"We're thrilled to participate in such a unique wine and culinary evening that highlights a part of our Canadian heritage, but with a special West Coast twist," said Christa-Lee McWatters Bond, Director of Sales & Marketing Encore Vineyards & Board member Okanagan Wine Festivals Society.  "It's fantastic that as an inaugural offering the Poutine & Pinot tasting is already sold out.  It demonstrates how the local community really embraces the Wine Festival events year round, as well as shows the real versatility of British Columbia Pinots that can pair with so many diverse courses."
"Growing up in Quebec we were regulars at the local cabanes à patates for poutine's most satisfying combination of flavours and textures with its warm, salty, crispy, and creaminess," said David Beaudoin, owner of Squeaky Cheese and Western Representative for the Dairy Farmers of Canada.  "Poutine is the best comfort food in the world and I cannot think of a better pairing than with the best British Columbia wines."
"The culinary team here at the Hotel Eldorado is excited and inspired by this opportunity to work in partnership with the Okanagan Wine Festivals Society, Dairy Farmers of Canada, Squeaky Cheese, and a selection of our top local wineries, to produce this inaugural and unique event," said Chef Vince van Wieringen.  "We are looking forward to presenting an assortment of poutine, paired with select Pinots, that will entice your senses."
The British Columbia wineries participating in the inaugural Poutine & Pinot event include:  Baillie-Grohman Estate Winery, Clos du Soleil Winery, Evolve Cellars, Gehringer Brothers Estate Winery, The Hatch, Hester Creek Estate Winery, Lake Breeze Vineyards, Little Straw Vineyards, Moraine Estate Winery, 50th Parallel Estate, Summerhill Pyramid Winery, and more!