No longer defined by canoes and crafts, 
drafty cabins and spidery pit toilets, 
summer camps for kids have evolved 
into a smorgasbord of opportunities. Here are a few possibilities to inspire 
the future celebs, super athletes 
and scientists of the Okanagan.
The Rock Garden Boot Camp, Vernon
Long gone are the days of basket weaving, swimming and canoeing, and a once a week horseback riding session for the lucky ones, as the only summer camp options for kids. Day campers or overnighters can explore a huge variety of activities like computer camps, boot camps, cheerleading, fitness, triathlon, mountain biking, rowing, instrumental music, choir or drama, and, the latest rage in Vernon, indoor rock climbing.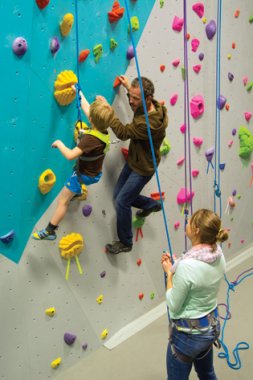 High times: Kids climbing the walls? Might as well sign them up for a climbing camp. Whether they're new to climbing or already scaling mountains like billy goats, these camps are all about exercise, developing climbing skills and having a good time. Safe, challenging, fun and air-conditioned.
Belay master: "I love that climbing is not only a physical challenge but a mental one as well," says owner and veteran climber Anthony Horne. "Climbing offers a way to shut out real world problems or distractions for a time. When I climb, all my focus is on what I am doing. Sharing my passion or creating a new one for kids is super rewarding as is the look on a kid's face the first time they get to the top of the wall."
Rock spiders of tomorrow: Ages 6 to 14.
Hanging out with friends: Camps can accommodate 10 to 12 participants, depending on age and experience. Two instructors keep a max 6:1 student/instructor ratio.
Climbing high: Located at 105-2450 14 Avenue (just off Kalamalka Lake Road) on a major bus route.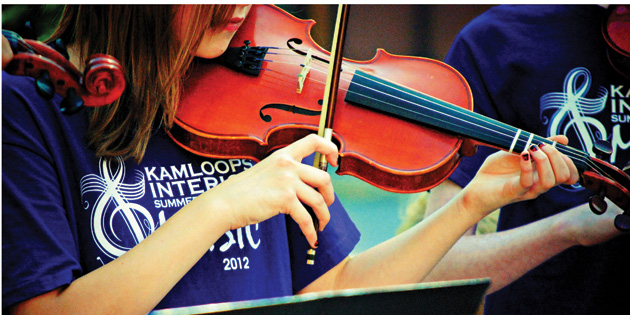 Kamloops Interior Summer School of Music (KISSM)
Name that tune: Non-profit since 1978, the Kamloops Interior Summer School of Music operates solely on tuition fees, donations and grants. Future impresarios can dabble in a variety of musical activities from classical to jazz, acoustic to electronic, beginner to polished performer in a relaxed, camp-like atmosphere.
Conductor: Kim Mangan.
Stars of the show: Kindergarten to Grade 12. Class sizes range from 6 (chamber music class) to 30 (full Broadway musical). Meet international students from USA, China, Turkey and Japan.
Fellow musicians: "It was a lot of fun. There were special theme days, summer camp type things like Tacky Tourist Day, Christmas in July and an outdoor water fight the last week," says Renee Bussey, first-time participant. "I'm going back."
Wheels on the bus: Location changes every summer, but is usually on a bus route.
Performance ready: Daily attire, cool and casual. Performance nights, KISSM shirt and dark bottoms.
Time is of the essence: Three weeks in July 2016, 8:30 am to 2:40 pm weekdays. Register early.
Just sayin': KISSM, another recent find of teen Renee Bussey, offers four different courses a day from a range of 40 different classes. After studying piano for five years Renee was looking for a change and a challenge. After two months of private lessons on her new preferred instrument, the cello, she was glad to be bumped from the beginner to novice strings class. "I also took contemporary and jazz piano. But my favourite was the drumline corps. It was a small class, only eight, and it felt like a family. Everyone had to be really focused to make it work."
Show me the money: $535. For three weeks.
Anyone can go: Bursaries available. Apply before mid-May.
Wowing the parents: Several evening performances.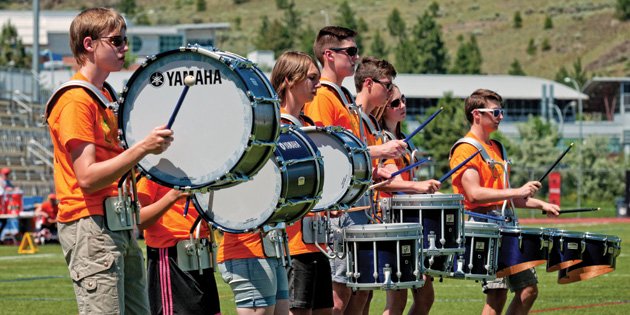 See more:
---
As seen in:
[downloads ids="135707″ columns="1″ ]