Okanagan residents win prizes for water conservation
The Okanagan WaterWise program has wrapped up its valley-wide outdoor residential water conservation campaign Make Water Work for another year with the awarding of prizes by the Okanagan Basin Water Board. Make Water Work is delivered in partnership with local governments and water utilities throughout the Okanagan.
As part of the annual campaign, Okanagan residents are encouraged to review a list of water-saving tips and pledge to conserve. In addition to saving water in our valley, residents are then entered to win prizes. There were three winners this year, one each in the North, Central and South Okanagan.
Kelsey Powell of Vernon won the $500 in WaterWise irrigation material from ProSource Irrigation Supply, Pam Kirstiuk from Lake Country won $500 in drought-tolerant turf material from Eco Turf Farms, and Summerland's Holly Dunlop won $500 in plant material from the Make Water Work Plant Collection courtesy of Grasslands Nursery.
Pam Kirstiuk noted the amount of water waste in the dry Okanagan and the need to conserve as her reason for taking the pledge. "I'm on a water meter now and can see how much I'm using, so over the last few years, I've been doing things to do my part. Make Water Work is a great way to learn ways to do that."
Sue and Barry Paull, with Eco Turf, have been a Make Water Work partner since 2014. As for why they've stayed with the program, Sue said it's an easy choice. OBWB's Communications Director Corinne Jackson, who manages the MWW program, notes that participation in this year's campaign exceeded last year's numbers.
The Board had 603 unique entries this year, third more entries than last year.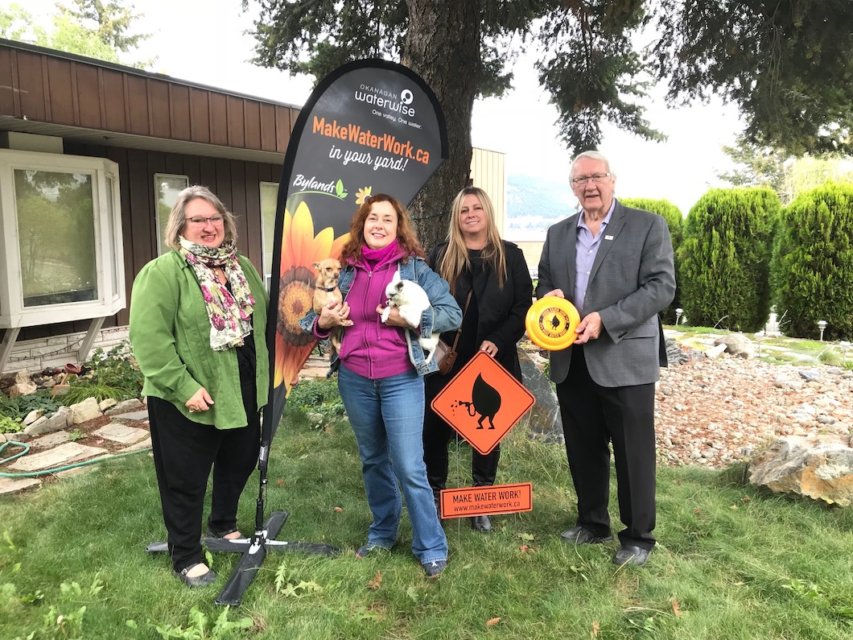 Central Okanagan winner: (L to R) Lake Country Communications Officer Karen Miller, Lake Country resident Pam Kirstiuk, Sue Paull of Eco Turf Farms, Lake Country Mayor James Baker
South Okanagan winner: (L to R) Summerland Manager of Utilities Devon van der Meulen, Summerland residents Holly Dunlop and Melissa Johnson, and Grasslands Nursery's Lauren Forsyth