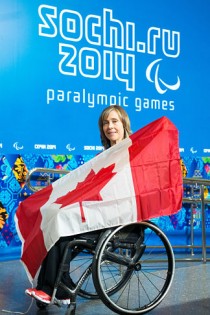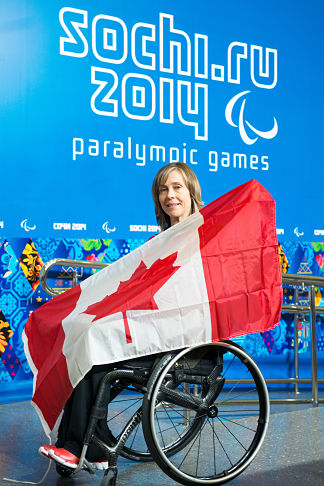 Okanagan athletes played a key role in clinching Canada's third place finish (behind Russia and Germany) at the 2014 Sochi Paralympics. While Russia dominated the podium with 30 gold and 80 medals in total — more than the next five countries combined — Canada made a strong showing in the more evenly matched remaining field with 7 gold, 2 silver and 7 bronze.
The world's most decorated wheelchair curler, Vernon's Sonja Gaudet, proudly carried the Maple Leaf flag to lead the Canadian team during the opening ceremonies. The honour recognized her two previous Paralympic gold medals (Turino 2006 and Vancouver 2010) along with three World Wheelchair Championships.
Sonja joined Ina Forrest (from Armstrong), Dennis Thiessen and skip Jim Armstrong to break the Russian gold medal stranglehold with a decisive 8-3 win in the final. Ina said they were in the groove for this game. "It feels fantastic," she said. "The game felt so smooth and comfortable."
For Sonja there was another message to go with the gold. "Sending that message around the world that giving up is not an option and battling through your challenges and facing obstacles head on — that's what these gold medals represent to me. It's about letting people know that anything is possible."
See more: Canada Wins Gold in Wheelchair Curling
Sonja's message resonates with Vernon sit-skier Josh Dueck, who came away from Vancouver 2010 with a silver medal and stunned the world in 2012 by completing the first back flip on a sit-ski. He raced to a second silver finish in the men's downhill at Sochi. It was the 10th anniversary of the accident that started his Paralympic odyssey, but Josh wasn't finished.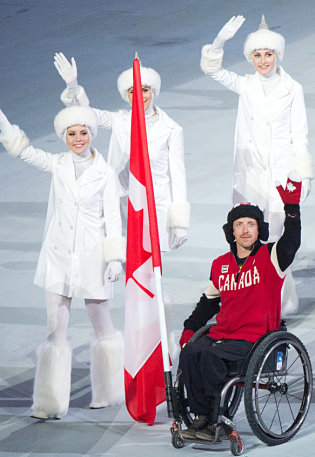 Standing fifth after the first slalom run of the super combined, he made up over a second in the super-G run to finally strike gold. "I'm stunned. Speechless. To the moon," said Josh. "This is definitely the one kind of achievement that was missing on my bookshelf. I can't wait to hear the anthem ring loud and clear. It's something that I've dreamt of for a long time."
What he may not have dreamt of was the honour of carrying the flag for the closing ceremonies. "I'm really excited, I couldn't be happier," said Josh. "I really can't imagine what will go through my mind when we enter the stadium. What a great honour. I ski because I love to ski, but I compete for Canada, so to have an opportunity to bring the flag in for the closing ceremony is unbelievable."
Autograph Session A celebration of golden proportions will take place at Silver Star as the resort honours Josh Dueck on the afternoon of Saturday, March 29. Join the Paralympic gold and silver medallist at the Village Centre at 4 pm.