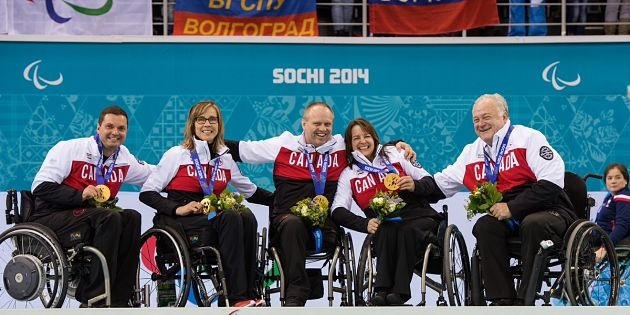 Canada won an unprecedented third consecutive gold medal in wheelchair curling today at the Sochi 2014 Paralympic Games, beating Russia 8-3 in the final this afternoon after beating China 5-4 in the semi-finals in the morning.
Third Ina Forrest from Armstrong, BC described what it was like to be in the groove for this game.
"It feels fantastic," Forrest said. "The game felt so smooth and comfortable."
Today's win in front of an enthusiastic and raucous home town crowd adds to Canada's string of success in international curling competition as gold medalist in both men's and women's Olympic curling and now the champions of the 2014 Sochi Paralympic Winter Games in wheelchair curling. Canada also won gold in wheelchair curling at the 2006 and 2010 Paralympic Winter Games.
Canada played their best game of the tournament in the final when it was really needed against the Russians.
Canada closed the deal in the sixth end when Canadain skip Jim Armstrong played a very precise takeout on the Russian shot stone and stayed in the four foot. The Russian skip had to hit the stone on the nose to score one but was too slow, giving Canada a steal of three. In the eighth end, the Russian squad ran out of rocks to make a comeback and handshakes were exchanged.
In the early game against China, Armstrong converted a draw for two with his final stone of the seventh to break a 3-3 tie and give Canada the lead for good. China had a chance to send the game to extra ends, but the Chinese skip was heavy with his final-stone draw, leaving them a point short and Canada won 5-4.