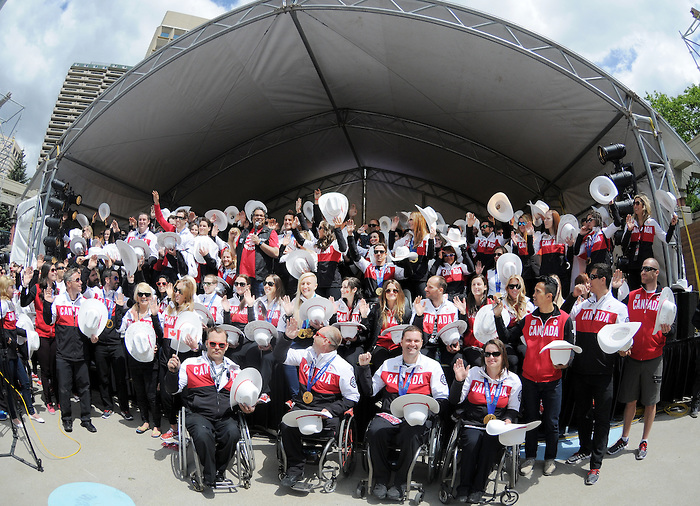 Today, Sochi 2014 Olympians, Paralympians and coaches marched and rode through the streets of Calgary for the 2014 Parade of Champions, celebrating their Sochi accomplishments with local Albertan fans.
The celebration kicked off with a pre-parade community pancake breakfast hosted by the Calgary Stampede, where 3,800 pancakes were given out to the crowd. Athletes got into the Western Calgary hospitality spirit by serving the pancakes to fans of all ages. Fans were also treated to entertainment on stage at Olympic Plaza with CBC hosts George Stroumboulopoulos, Doug Dirks and Rosa Marchitelli, who pumped up the crowd with music and Olympic trivia before the Royal Canadian Air Force flew by with three Griffin military helicopters.
"The city of Calgary really came out today to celebrate with us," said para-alpine skier Josh Dueck, who won gold and silver medals in Sochi and was Canada's flag bearer at the closing ceremony. "To see the joy that it brings the kids and the hope that it will inspire future athletes really brings purpose to what we do as athletes."
"It has been unbelievable to see the sheer number of screaming Canadian fans who came out to see us today at the 2014 Parade of Champions," said Jennifer Jones, Sochi 2014 Olympian and gold medallist. "Getting to connect with all of our fans on such a grassroots level to thank them for all of their support is really the cherry on top of winning a gold medal. This is what sport is all about."
Olympians and Paralympians started the march on 8th Avenue at 10th street, waving to fans and locals from their floats and making their way down to Olympic Plaza, where thousands more were waiting with hosts George Stroumboulopoulos, Doug Dirks and Rosa Marchitelli. Special guest act Cavalia also entertained the crowds, incorporating their acrobatic performance into the parade along the streets.
With over 400 people participating in the parade, the crowds watched six floats, five wagons, eight BMW convertibles, six trucks, three marching bands, stilt wakers, the Mayor and the Calgary Stampede float go down 8th Avenue toward Olympic Plaza.
"We always knew Calgarians would come out to support their Olympic heroes, but the sheer numbers and the enthusiasm of the fans made it special," said Marcel Aubut, President, Canadian Olympic Committee. "Thank you Mayor Nenshi, the City of Calgary and the Province of Alberta for all of your support. We could not have done this without you."
"The past three days have been full of magical moments and countless highlights for our athletes and the Canadians they've connected with," said Gaétan Tardif, President of the Canadian Paralympic Committee. "The Parade of Champions today was an amazing experience for all involved and such a fitting way to cap off the Celebration of Excellence. A big thanks to all our partners and supporters for making this unforgettable event come to life."
Athletes were interviewed as they arrived at Olympic Plaza by red carpet host, George Stroumboulopoulos, before participating in a White Hat Ceremony by parade Grand Marshall Naheed Nenshi, Mayor of Calgary. Headline act and Canadian pop superstar Alyssa Reid then ended the show with a bang, entertaining around 5,000 fans in attendance with songs from her smash hit albums.
The 2014 Celebration of Excellence will continue with the Canadian Olympic Hall of Fame Gala and Induction Ceremony.
Photo: Matthew Murnaghan/Canadian Paralympic Committee