Sliding into my favorite chair by the window at Bliss Bakery in Peachland, chai tea latte and tiramisu in hand, I open my Mac and begin typing. My golf clubs wait patiently outside in my Acura TL for me to organize my thoughts, concepts and ideas into the words you are now reading and if all goes as planned, I will visit Two Eagles driving range later for some practice.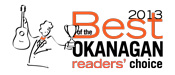 As my two fingers typed, I ponder the four brands mentioned above. (Editor's note: none of them are advertising in this issue; but the local three received Best of the Okanagan awards.) They have 'touched' me in considerable ways in the past. Bliss is locally owned while my Mac (Apple) is made by one of the biggest corporations in the world. Two Eagles pro Dean Claggett sold me my clubs and I did hit some balls after writing (about half of) this column.
Dean and his fellow golf colleagues are part of a beautiful tribe that we celebrate in this issue. They have created exceptional golf courses that together and have become Canada's best destination for golfers. Manse Binkley sold me my TL a few years ago. Manse owns Harmony Acura (voted best Car Dealer in the Okanagan) and he and his fellow Okanagan auto dealers are also true community champions in my book… er… magazine. Okanagan auto dealers are extremely community minded, they employ lots of people with high paying jobs and they support local sports, charities and youth programs.
These four brands 'whisper' to my subconscious and therefore, get my business.
A pretty girl strides by the window with jeans so tight the men squirm in their seats. I imagine the jeans were made in Bangladesh for Walmart to match her Nike cap, perched gracefully above sunglasses that compliment her delicate figure. I have an even bigger bite of my tira-miss-use in retaliation. Something is troubling me.
Now I find myself pondering two new brands that 'scream' at me as they invade my subconscious. For me, Walmart represents practically everything that is broken in our supposedly free market system. They are not Bliss, they are not Apple, they are not Acura and they are not Two Eagles. Walmart is an oligarchy. Locally, they pay extremely low wages and internationally, they exploit third-world workers. Walmart's four owners make the list of the world's top 20 richest people. If you haven't already, take a few minutes to educate yourself about their brand, and you will probably never again darken their door. Nike is quite similar in that exploited workers sometimes die in factories around the world, so they can pay Tiger Woods $100 million—to "Just doing it!"
Part of your brain expends only two per cent of its energy on conscious activity, with the rest devoted largely to unconscious processing. Traditional research methods — like consumer surveys and focus groups — are inherently inaccurate because consumers can never articulate all of the unconscious impressions that whet or dull their appetites for certain brands.
Successful brands whisper appeals to the subconscious level of the brain, the place where consumers develop initial brand loyalty, interest or contempt for a brand, and the wisdom to understand that too big to fail, is failing all of us.
That is why my favourite brands whisper local.