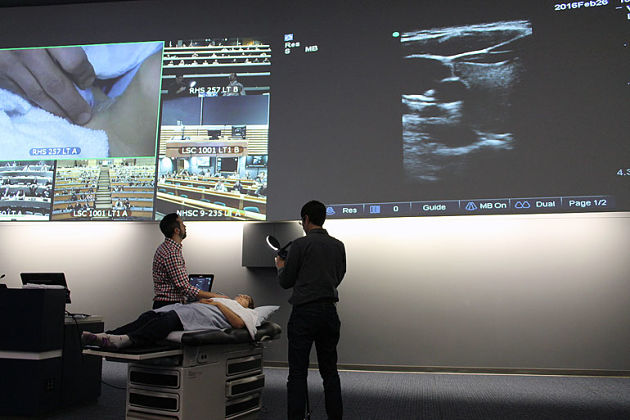 UBC medical students and health-care providers will get more hands-on training thanks to a recent donation of two new portable ultrasound machines to the UBC Southern Medical Program.
A recent gift from The Colin & Lois Pritchard Foundation allowed the program to purchase two machines that will be dedicated for training in basic ultrasound proficiency, benefiting multiple learner groups at Kelowna General Hospital and physicians in the southern interior.
Ultrasound is a crucial and versatile tool within the field of medicine and considered indispensable in areas such as emergency medicine, surgery, critical care, obstetrics and gynecology. Many physicians describe it as the new stethoscope, representative of a new standard for medical practice and point-of-care-delivery.
However, the technology hasn't always been readily available for teaching given its heavy clinical use throughout the hospital.
The recent gift from the Pritchard Foundation will alleviate that problem. The two new portable ultrasound machines are designated as a training resource for MD students and residents at Kelowna General Hospital.
"The ability to see inside a patient, virtually, from initial examination to the moment of discharge, improves and enhances the entire process of patient care," says Dr. Allan Jones, Regional Associate Dean, Interior, UBC Faculty of Medicine. "We are fortunate to have dedicated access to these machines and are now exploring ways to best integrate the technology into the curriculum for our learners."
The new equipment, a pair of Sonosite Edge portable ultrasound machines, is widely used by Interior Health. Equipped with a 12.1" (30.7 cm) screen, each device comes with three probes, one for deep tissue analysis up to 30 cm, and two shallow probes up to 10 cm, primarily used for trauma, obstetrics, and central line placements.
The portability of the machines is a key benefit, says Jones. One of the machines was recently transported from Kelowna General Hospital  to UBC Okanagan for an anatomy lecture that was video conferenced to medical students in Vancouver, Prince George and Victoria.