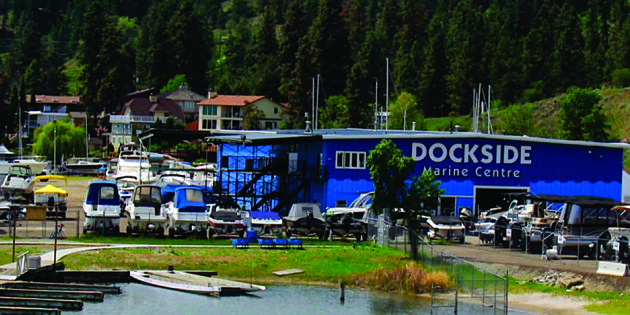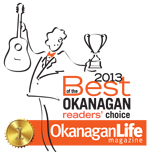 "Yeah! We're on the water," is the cheerful cry of the boating enthusiast and a sentiment echoed by the happy staff of Dockside Marine Centre.
After nearly four decades of serving the Okanagan boating community, the award-winning marine centre is living up to its namesake, locating dockside at Shelter Bay in West Kelowna. You'll find them at the foot of the William R. Bennett Bridge, Okanagan Lake's floating bridge, with access off Campbell Road.
"As you can well imagine, being the only boat dealer on the water is a huge benefit," says President & CEO Vern Nielsen. "We've had dozens, if not hundreds, of people say is going to be so much easier to bring our boat in for service."
This February, Dockside saw new owners take the reins when long-time shareholder Sergei Krasnov added two new partners, Bill Redmond and Vern Nielsen. First on their agenda was the renovation of the 1,207 sq. m building that would become Dockside's new lakefront home.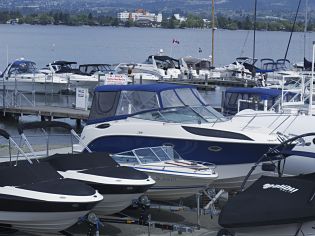 "We've put in some very nice features...Our sales staff and customers can take advantage of the outdoor patio to have a coffee, sit outside and look at the boats and the lake."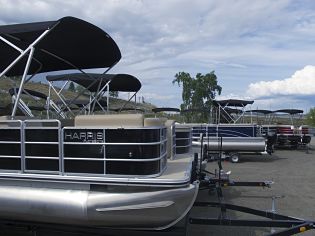 The facility has quickly transformed into a grand show room complete with an expansive nine-metre ceiling, an extensive parts and service department and a customer service centre that extends to a 15-metre outdoor patio. The mezzanine level holds the Pro Shop on one side and the administration area on the other, with a second level of adjoining patios.
"We've put in some very nice features," says Nielsen. "Our sales staff and customers can take advantage of the outdoor patio to have a coffee, sit outside and look at the boats and the lake; and we're looking forward to hosting an after-five business reception where all can enjoy the two-level deck and the view it provides."
Outside, the property showcases new and used boats for sale plus access to two boat launches and the only marine travel lift on Lake Okanagan to get larger boat in and out of the water.
On-lake boat rentals
The new location brings Dockside's on-lake rental locations to four, each offing family and wakeboard boats, pontoon boats, personal watercrafts and kayaks and paddleboards rentals. In Peachland, you'll find then at Pentowna Marina located at the south entrance on Beach Avenue. In Kelowna, they are on the dock at Manteo Resort off Lakeshore Drive. Further north in Lake Country, rentals are offered from Wood Lake RV and Marina.
Pontoons are the hottest commodity this summer
While Nielsen is enthused about the new rental business, it's the tremendous growth in boat sales that has spurred the company's big move. Now Canada's largest Harris dealer, and number one in sales, Dockside Marine is seeing business boom as the baby boomers burst into active retirement.
"Pontoons are by far and away the hottest commodity this summer," he says. "Our year's supply is more than half sold already, so we doubled our original order with new boats arriving in mid June."
For the previous few years towboats have definitely been popular, and still are with the younger set, but the comfort – can we say dual chaise loungers – quiet and stability of the pontoons wins out with the aging boater who loves to cruise along the shore and show visiting friends and family the sites of Kelowna.
Last year, sales were for starter pontoons, ranging from $30-40,000. This year, owners are moving up to the $60,000 range, complete with choice of custom floor plans and amenities.
In addition to Harris, Dockside is a dealer for Lund and Sanger and was one of the first dealers to carry both Sea Ray and Bayliner. The engine of choice at Dockside: Mercury.
Mercury annually evaluates the service performance of dealers and assigns the highest rating of "Mercury Premier" to those dealers demonstrating an exceptional commitment to customer service, a standard Dockside continues to uphold year after year.
The new Dockside Marine Centre service department employs eight technicians, a specialized gelcoat bay and four extra deep service bays.
Another benefit of the waterfront location at Shelter Bay Marina is the full service they provide to mooring boat owners. From mechanical repairs and custom installations to canvas and upholstery repairs and detail cleaning, technicians can go right on the dock and work on boats in the water. The fully stocked parts department and Pro Shop, carrying wakeboards, slalom skis, tubes, ropes and more, is just steps off the dock.
It's a big move from Finns Road where Dockside has called home for more than 20 years, but for the Central Okanagan's Best Boat Dealer (as voted by Okanagan Life readers) it may be their best move yet.
PROMOTION
This business profile was originally published
in the June 2014 Okanagan Life Magazine.
See more advertising opportunities.