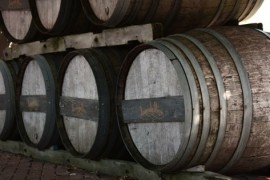 Inniskillin Okanagan Estate Retail store will soon have a new home, having outgrown its current longstanding location on Mariposa Road in Oliver. Strong growth and increased popularity mean a new, larger store is required to meet the needs for increased wine promotion and retail sales.
The end of November will mark the closing of the existing Inniskillin retail store to make way for an exciting new, shared location adjacent to Jackson-Triggs in Oliver. The new store will launch in early 2014 and promises an expanded, interactive and customer-centric experience that is a one-stop shop for both the Inniskillin and Jackson-Triggs Okanagan brands.
This new facility will lend itself to wine tastings, and food & wine pairing experiences, with an eye to becoming a must-visit, tasting and retail experience at the gateway of the South Okanagan.
The existing Jackson-Triggs retail store will remain open throughout the expansion plans. Inniskillin Okanagan staff will be there to greet guests at the re-opening in the Spring at the new location.