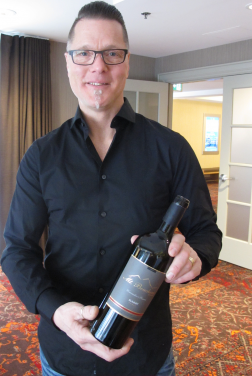 Mt. Boucherie Winery's Jim Faulkner offers distinctive wines in a limited release of his Winemaker's Reserve now available from the West Kelowna winery in the Okanagan Valley
The 2013 Summit Winemaker's Reserve and the 2014 Syrah Winemaker's Reserve reflect the work of a winemaker in top form and a harvest from mature vineyards. Working with grapes from distinct terroir—at Mt. Boucherie's estate vineyards in West Kelowna, Okanagan Falls, the Golden Mile Bench and the Similkameen Valley—Faulkner brings exquisite precision to his blends and varietals.
Summit is Mt. Boucherie's signature wine, blended in the Bordeaux style. The 2012 vintage was named Best Meritage at the Okanagan Wine Festivals Society 2015 BC Best of Varietal Awards. The 2013 Summit promises a similar rich and opulent taste.
Unveiled to guests at the 2017 Canadian Culinary Championships (CCC) this February, the 2013 Summit gained 93 points from John Schreiner, 92 points from WineAlign and a four-1/2 star review from Okanagan Life Magazine. The 42-barrel limited vintage is a blend of Cabernet Franc, Merlot, Cabernet Sauvignon and Malbec aged 22 months in 100% French oak.
2014 Syrah Winemaker's Reserve also captured the attention of CCC head wine judge, David Lawrason who rated the wine 92 points.
"Winemaker Jim Faulkner has done a great job with this massive yet refined Syrah from winery-owned vineyard in the Similkameen Valley," he says. "So complex – a Syrah on steroids that is true to northern Rhone flavour profile."
Produced under the VQA Similkameen Valley mark of distinction, the 2014 Syrah Winemaker's Reserve is a showcase of Mt. Boucherie's southernmost vineyard just north of the U.S. border. Due to the high mountains on both sides of the valley, and the reflective action of the rock, the heat is held long after the sun sets. The vines thrive in the stony, gravelly and silty loams from glacial rock formation. The wine is a rich, fruit forward Syrah with aromas of cherry and pepper, with a velvety finish.
Spring Okanagan Wine Festival Tastings
To add to its reserve list, Mt. Boucherie Winery is has new releases just in time for the Spring Okanagan Wine Festival: 2016 Rosé and 2016 Gamay Noir. The afternoon of May 6, the winery will host a patio party with live music and food pairings created by Chef Chris Shaften from Krafty Kitchen & Bar.
The charming 2016 Rosé with aromas and flavours of cherry, strawberry and raspberry, scored 90 points from John Schreiner. Made with 100% Zweigelt grapes this juicy wine offers a lingering fruity finish. The winery's Gamay Noir has been sold out for a while so fans will welcome the 2016 vintage. This fruity full-bodied Gamay offers delicate floral aromas with subtle earthy notes.
Mt. Boucherie Winery wine shop, production facility and on site vineyard are situated in West Kelowna on the slopes overlooking Okanagan Lake. Discover their wines at the tasting room, open daily from 10 am to 6 pm, at 829 Douglas Road, West Kelowna or online at mtboucheriewinery.com.