Mission Hill presents Cowboy Junkies, Michael Bolton, Jewel and Chris Botti
The artists are larger than life, the venue is iconic and the concerts will be legendary. Mission Hill Family Estate is proud to announce the performers appearing this summer at the winery's spectacular outdoor Amphitheatre. The performances include: Canada's own seminal alternative band Cowboy Junkies on Friday, July 7; the triumphant return of multiple Grammy Award Winner Michael Bolton on Saturday, July 8; legendary singer-songwriter Jewel on Friday, July 28; and a special return engagement by multiple Grammy Award-winning American pop and jazz instrumentalist Chris Botti on Thursday, August 3.
With the creation of the amphitheatre, Proprietor Anthony von Mandl, a strong proponent of the arts, created a unique opportunity to enjoy live music in an unrivalled setting. Situated on a prominent hill with majestic mountains and a scenic lake creating the perfect backdrop, guests enjoy a gorgeous evening of music, wine and cuisine at one of Canada's premiere outdoor concert venues.
"A concert performance under the open sky at our outdoor Amphitheatre is a truly unforgettable experience," says von Mandl. "There is something extraordinarily special about this intimate hilltop location; a wonderful outdoor concert experience reminiscent of the grand performances staged at Europe's historic open-air amphitheatres. We are thrilled to welcome these exceptional musical performers to the winery this summer."
Tickets will go on sale to the public on Wednesday, May 3 at 10 a.m. at missionhillwinery.com or 250.762.5050. These much-anticipated concerts are once again expected to sell out quickly as these performances have become the hallmark of summer in the Okanagan Valley.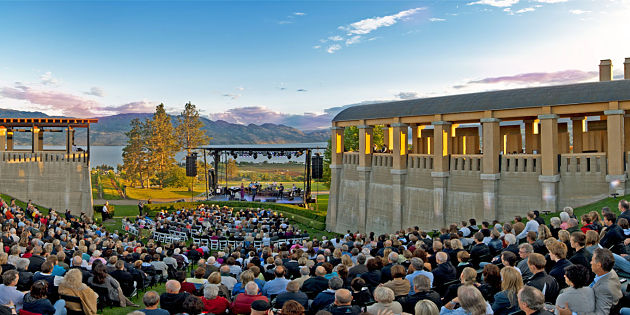 For artists who command much larger venues the small capacity Amphitheatre provides a rare treat for those eager to engage with their fans on a more intimate level. Brilliant sound, glorious music, the scents of summer, the taste of Mission Hill wines and the flavour of the food, prepared on-site by Executive Chef Bradley Froehlich and his culinary team, combine to make the evening unforgettable.
Mission Hill Family Estate is also offering several experiential packages for guests to enjoy an unforgettable evening of food, wine and song.
Terrace Dinner & Concert 
Includes reserved concert seating at the base of the Amphitheatre and a 4-course pre-set seasonally inspired dining experience with wine pairings at the award-winning Terrace Restaurant.
Long Table Dinner & Concert
Includes reserved concert seating in the first three rows of the Amphitheatre bowl and a 4-course seasonally inspired dining experience with wine pairings at a long Harvest Table.
Loggia Wine Lounge & Concert 
Includes reserved concert seating at the base of the Amphitheatre and exclusive access to the winery's outdoor covered Loggia gallery adjacent to the Amphitheatre. Guests will be treated to wine service and hors d'oeuvres prior to the concert.
Chef's Artisanal Culinary Experience with Wine Pairing & Concert
Includes an artisanal sandwich served with truffle parmesan popcorn, 500 ml bottle of still water, and 375 ml bottle of Mission Hill Reserve wine. Guests may make a wine selection at time of pick-up.