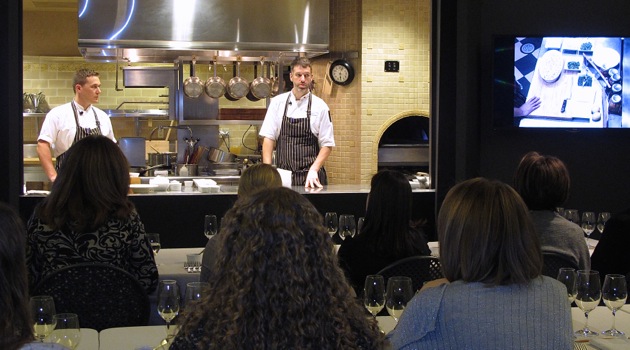 Mission Hill's Culinary Workshops are the highlight of the Fall-Winter season in the Okanagan Valley.
Designed to educate and inspire both the novice cook and culinary connoisseur, the classes feature the winery's chefs in the a state-of-the-art Culinary Theatre as they share their passion for locally-sourced ingredients paired with Mission Hill's award-winning wines. The schedule includes several dynamic new themes, as well as "encore" performances brought back by popular demand.
Newly added classes are now open for registration: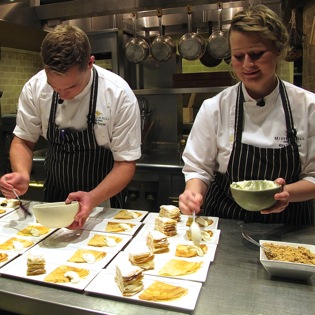 Celebrate France
Thursday, January 29, 2015 at 6:00pm or
Friday, January 30, 2015 at 6:00pm
With such a diverse and rich culinary history, choosing just one region proved to be too much of a challenge for Executive Winery Chef Stewart. Instead he will explore five different regions in our quest to showcase the iconic cuisine and traditional specialties of France.
India
Wednesday, February 4, 2015 at 6:00pm
Join our Chefs as they uncover the secrets to great Indian food. In this class we will touch on and deconstruct the different spices, key ingredients and different sauces. Dishes include pakora, aloo gobi, tandoori, madras chicken and lamb dopiaza.
Celebrate California
Tuesday, February 17, 2015 at 6:00pmSome of the most notable chefs of our time have their origins in California. With the Okanagan long being known as "Napa of the North", come and discover how some of California's most notable chefs have been instrumental in the development of a culinary movement that's all about refined food, fine wine and elegant service. If the names Keller, Mina and Waters inspire your taste buds, this is the class for you.
Thai
Thursday, February 19, 2015 at 6:00pm
The popularity of our Thai classes has become that of local lore as every class sells out time and time again. What to do? Write another class, give the people what they want, so here it is! Chef Stewart will be at the helm of this tasty journey to Asia. You will learn traditional techniques and discover how to balance the five elements of taste: sweet, sour, bitter, spicy and salty. In order to convey their special importance in the flavour dynamics of Thai cooking, nuts and shellfish are commonly used.
To reserve space book online or call 250-768-6483.