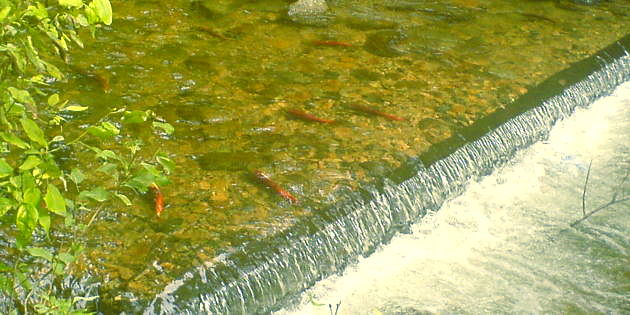 There's fun, food and activities for every member of your family this weekend at each of the Kokanee Salmon Festivals in the Okanagan Valley.
The celebration of the fall Kokanee salmon spawning run goes in Mission Creek and Hardy Falls Regional Parks on Sunday, September 18 from 11:00 am to 3:00 pm. Park interpreters will be at each location with 'fishy' kids activities to help you learn more about the spawning red land-locked cousin of the sockeye salmon.
Westbank First Nation Councillor and Regional Board member Micky Werstuik will open the event in Mission Creek Regional Park, Springfield and Durnin Roads. Then CupCasions will cut into a delicious salmon run cake made from over 400 cupcakes.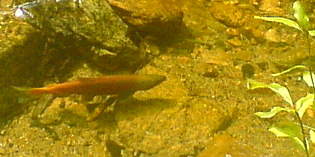 Celebrate the return of the red fish and see the Kokanee run up close without getting wet. The Central Okanagan Search and Rescue volunteers will have their underwater camera in the spawning channel to give you a more intimate look at what's happening underwater. The Royal Astronomical Society of Canada will have its solar telescope out for you to safely view the sun, learn about 'fishy' constellations and how lightpollution affects wildlife.
Get ready to party as entertainer Matt Duffus performs throughout the day. Don't be surprised if you find yourself volunteering to be a part of his show, whether it's playing a kazoo or some other instrument or just singing your heart out. 'Swim' into the Salmon Story Telling tent where inside this hugely popular large, inflatable, interactive tent you'll hear first nations stories narrated about the salmon.
At Hardy Falls Regional Park (Hardy Road off Highway 97 south in Peachland) join the Regional District and the Peachland Sportsmens Association for the free mini Kokanee Salmon Festival. There's a barbeque and refreshments, games and drumming with entertainer Rhonda Draper, a salmon puppet show and you can satisfy your sweet tooth with some 'fishy' cake.
For more information visit the Regional District website regionaldistrict.com/parksevents or you can contact the EECO at 250-469-6140.