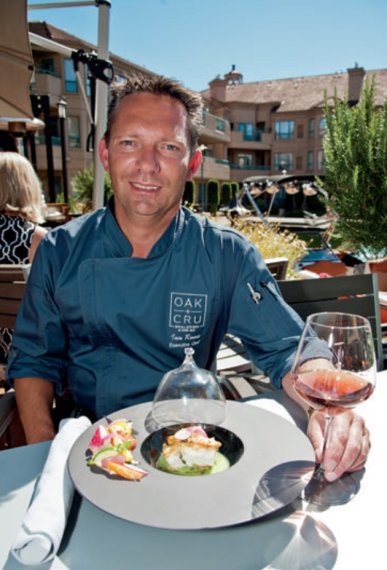 The job of developing a unique role at the new Oak + Cru Social Kitchen & Wine Bar must be a bit like having a brother who is the top scorer in the NHL while you're still trying to make your own name. Only the top scorer in this story is the stylishly venerable Delta Grand Hotel and executive chef Iain Rennie must put his personal stamp on the new eatery.
Oak + Cru opened its doors in early June after a $9.4 million facelift to the hotel's lobby which included the elegantly minimalist restaurant/wine bar and sun-drenched lakeside patio.
"It's exciting to be part of this new look," says Rennie. "But it's also very important that we are known as a stand alone restaurant—part of the hotel, but separate in its own right." Rennie comes to the Okanagan with more than two decades in Fairmont Weston hotels. Most prominently he was the executive chef at the Empress in Victoria, but also worked in the organization's Vancouver kitchens as well.
Chef Rennie spells his first name in the traditional Scots manner—Iain, rather than the English Ian—reecting his heritage. Born in Prestwick, about 50-kilometres south of Glasgow, he arrived in Canada at the age of two with the entire Rennie family.
Not only did the family cross the ocean to explore BC, but they also brought their skills with them. The Rennies have been in the food service business for three generations. Iain's grandfather, Bill, was a professional baker and his dad Alex was a culinary instructor at Malispina College (now Vancouver Island University). The three eventually taught together for six months at the Island college.
By the age of 11 Iain was already recognized as something of a protégé. That was when he attended his first food show in Seattle and walked away with a gold medal. By 13 he knew what his destiny would be.
Iain's training took him through the culinary arts program at Malispina and then back to the UK for additional training in London. It all paid off and in 2002 he won a coveted spot on Team BC for a five-day competition in Germany, where he pitted his skills against chefs on 52 other national teams. This year, he was also one of the core members of Culinary Team Canada for the 2016 Culinary Olympics.
"The move from the Empress gives me a chance to create an entirely new environment. I want Oak + Cru to be fairly artistic and with local sourcing."
He tries to keep his suppliers within a 200-mile radius, "and incredibly fresh. I get my cheese from Little Qualicum [Cheeseworks] on the Island and our vegetables from around the Valley."
Chef Rennie goes so far in his efforts to source locally that he has two beehives on the roof of the hotel with 80,000 bees to produce his own honey.
Still, baking is the centre of his universe. Everything is baked fresh nightly — much of it in the restaurant's Wood Stone Fire Deck Oven.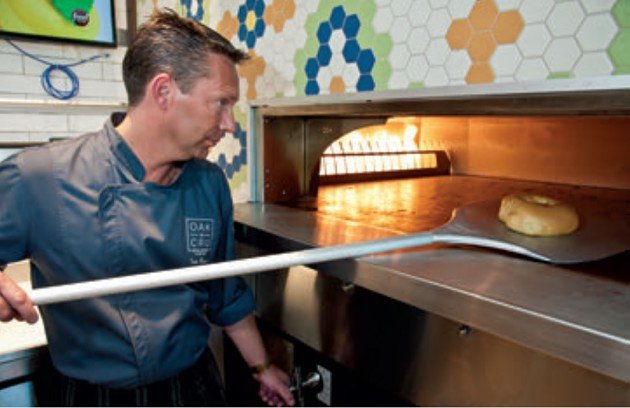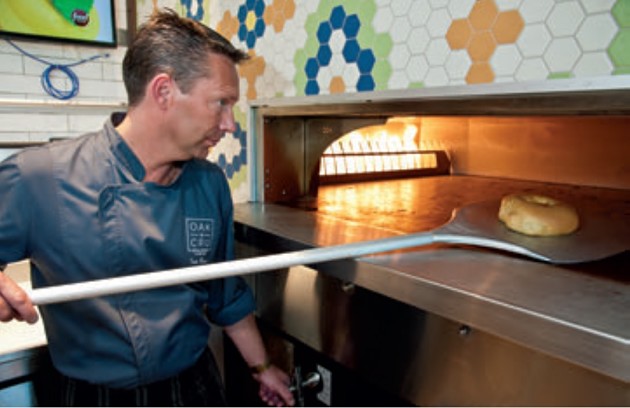 "I think flatbreads are trending. They're efficient, taking about four minutes to bake, but you can do a lot of different dishes with them — like our signature Brisket Flatbread. It's flavoured with compressed pears, Cambozola blue cheese, hoisin-tomato sauce and fresh mozzarella." Flatbreads aren't the only offerings. Another anchor for the menu is the Shroomata — a cousin of the frittata, but made with BC wild mushrooms, heirloom tomatoes and fresh basil.
To help create the new identity for the dining room, Oak + Cru has accumulated what is arguably one of the nest wine cellars in the Valley. It contains more than 2,800 bottles of varying vintages featuring 300 labels from the Okanagan, making it a place to go to get a wonderful overview of the region's remarkable wine output.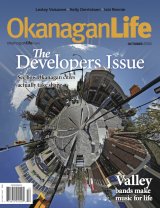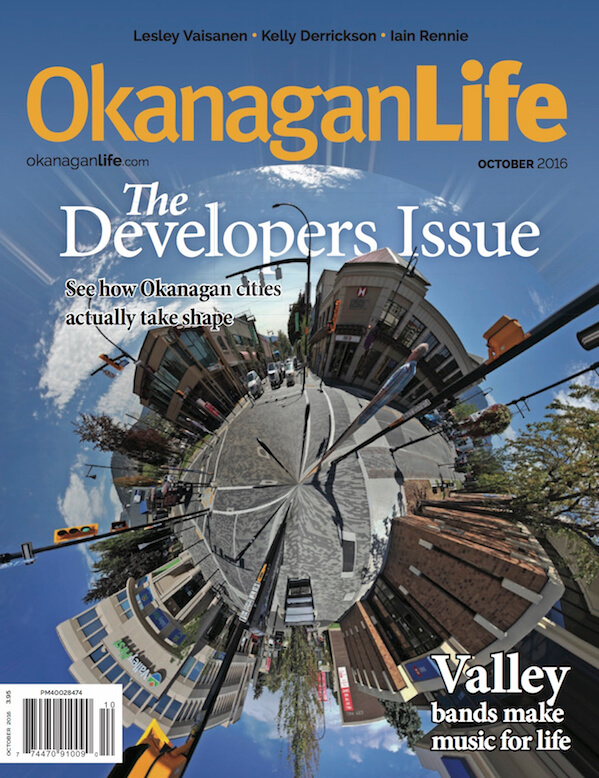 Our October issue features Okanagan developers and urban planners. Learn the who, what and why of shaping our cities for the future.