One Okanagan chef has put a whole new twist on the farm to table dining craze. See what "golf" and "gourmet" have in common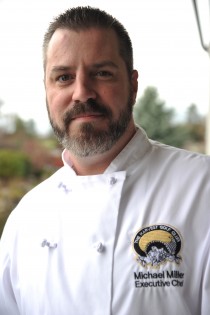 Chef Michael Miller
The Harvest Grille
Executive chef Michael Miller has to pull off a balancing act at The Harvest Golf and Country Club, finding the median between out and out pub food and a higher level of cuisine worthy of being served on white linen in The Harvest Grille. He succeeds with a little help from the resources of the club's own farming efforts.
"I have to be careful," Michael grins, "I can lose whole days out on the fairway without ever picking up a club." The danger lies in the fact that the fairways of the championship course are separated by orchards.
"We use our own fruit here in the kitchen for desserts, compotes and preserves. There are apple, cherry, apricot, nectarine and peach trees that we harvest as well as the produce we can take out of our vineyards where we grow four acres of Ehrenfelser, one acre of Pinot Noir, two-and-a-half acres of Chardonnay, and two acres of table grapes." What Michael and his staff don't use from the vineyard is sold to Grey Monk Winery for bottling under their label.
Chef Michael continues to talk as he prepares a house specialty: mahi-mahi encrusted with pumpkin seed and pesto, plated with a root vegetable risotto and enhanced with Anjou pear salsa.
"We have fruit coolers right on site so we always have a steady supply right through to Christmas." The course is open until Halloween, but the restaurant continues to host functions until Christmas, then everyone in the kitchen gets a break until spring.
After seasoning the mahi-mahi, Michael begins prepping the risotto. "You have to babysit the risotto or it gets away from you." He starts with a vegetable stock made with shallots and garlic for cooking the arborio rice. The golden beets, parsnips, zucchini, rainbow carrots and apples
are already chopped. The herbs he uses come from the club's kitchen garden where they also grow grape tomatoes and edible flowers like nasturtiums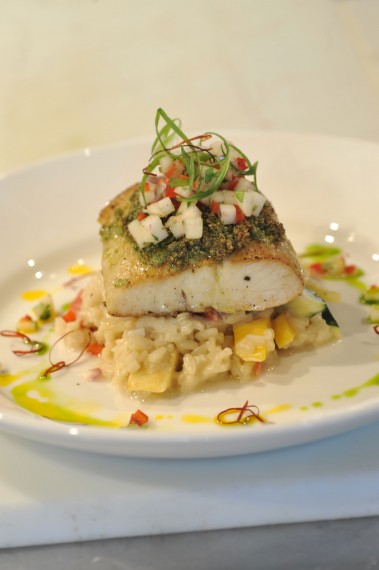 "Personally I try to cook a rustic style of fare. We've got all of this around us so it's great to incorporate the regional flavours into our menu," says Michael. "I guess I've really been influenced by the Mediterranean region, especially Provence."
Ladling stock into the rice, he talks about some of his seasonal dishes like coffee-anise rack of lamb and scallop and prawn pasta. "It's funny because we sit somewhere between the pub and high-end dining rooms. I lean more toward high-end food. Just because you played 18 holes doesn't mean you're too worn out to enjoy good food."
Michael moved with his family from Orillia, Ontario, to the Okanagan when he was 14 and almost immediately began flipping burgers after school at PJ's All Star Café. He recalls his later apprenticeships with Chef Reinhard (Foerderer) and Chef Bernard Casavant at Manteo Resort. "One of the great things about working in hotels is that you get all facets of the business from banquet prep to higher-end cuisine."
The 40-year-old chef has been with The Harvest Grille for four years and its top chef for the past two. "Now that I'm the executive chef," says Michael, "I like being responsible for the execution of our service and love the excitement of making the final call on plates before they're served to our customers."