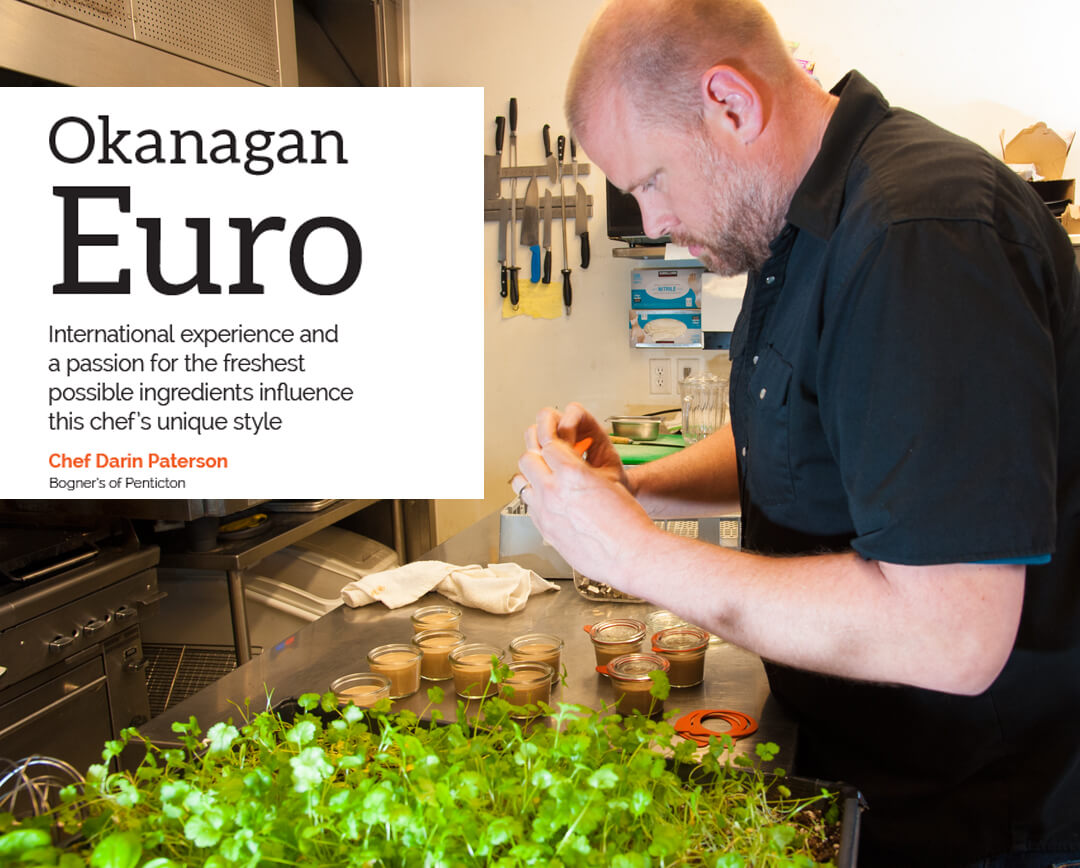 Chef Darin Paterson
Bogner's of Penticton
"I  don't want my patrons to need a thesaurus to read the menu," says Darin Paterson. So keeping it simple, healthy and good-tasting is the one goal Bogner's of Penticton's owner and executive chef has in mind when he goes to work every day.
It was tough when he first bought the restaurant, 10 years ago, to shake off the image of the former Granny Bogner's?—?there were just too many memories. But Paterson has done it, breathing new life into the historic house in downtown Penticton.
As we talked in the dining room, over a glass of Zinfandel and a platter of house-cured red wine bresaola with curried chopped eggs and plucked greens garnished with green tomato chow-chow, I could see his collection of raised gardens in the yard awaiting winter's departure. They had the worn feel that comes just before green jumps out of the ground to herald the new season.
"We grow a lot on site," he says. "The entire perimeter of the property is made up of gardens in raised beds. We grow everything from tomatoes to garlic along with rhubarb, strawberries cucumbers and green beans."
Paterson uses the raised planter beds to create thermal mass. One wall is 22 inches thick and will heat up to 45°C. Last year Bogner's grew and processed 3,500 pounds of tomatoes?—?not counting the cherry and grape varieties. "We start everything from seed and from one three-square-metre bed we can pick every day for a month."
It's a massive effort to produce that much and Paterson, who also oversees the kitchen at Red Rooster Winery, can't do it all by himself. His mom, Sandra, does the majority of the gardening.
Garden produce is processed into hot sauce, mustard and pickles and the canning process goes on at Bogner's from late August until well into the fall. With the help of Taylor Van Russel and Hamzah Al Mahdy in the kitchen, Paterson uses low-temperature pasteurization to set the colour in his tomatoes and to prevent the nutrients from burning off.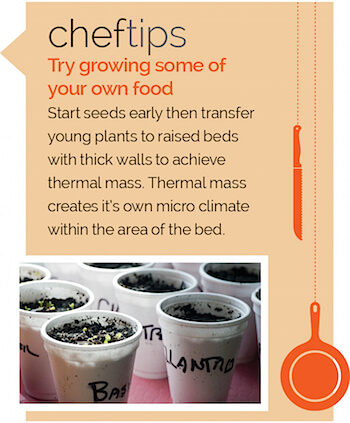 Born in Ontario, he grew up in Edmonton where he got his Red Seal in 1998 from NAIT (Northern Alberta Institute of Technology), but he's been working in commercial kitchens for more than 25 years?—?since the age of 14.
He and wife Katrin met in Saudi Arabia. From there the couple moved to Stockholm and Paterson worked for the largest catering company in the city. Chefing at the Tre Byttor Taverne was an eye-opener. The tavern evokes the 1700s period and was built in an old Stockholm house as part of the Scandinavian city's Skansen Open Air Museum (the world's first).
Back in Canada, the couple spent six months in Edmonton, but municipal zoning approvals put too many restrictions on parking and other factors for restaurants. They looked at five different locations, but nothing worked until Katrin took an Okanagan wine tour and got the idea to search in BC. Darin and Katrin were on their way to view a restaurant in Vancouver when they stumbled on Bogner's. That was on a Tuesday. Their realtor told them Bogner's was going to be listed on the Friday. They never got to Vancouver.
Now Paterson serves up European fare with a Canadian flare. In the summer, he'll be offering a family style barbecue with tapas-inspired dishes (five-course menu) with seating both inside and out.
After all is said and done, Paterson says the goal of their move to Penticton "wasn't just to open another restaurant, but to start the next 20 years of our lives."
As seen in
[downloads ids="146167″ columns="1″]